It's been a decade since Charlie NovoGradac started planting the first of his 6,000 pine seedlings on his 20-acre field at the edge of North Lawrence.
Each year he's watched them grow, nurturing them to maturity through careful pruning, persistent mowing and all-natural pest control.
Now, in his fourth season of offering cut-your-own Christmas trees, the retired lawyer already has come to a summary judgment.
It's time to get out.
"I kind of regret not having planted more trees," he says, tooling around his farm in a tractor. "It's fun being a part of peoples' Christmas. It'll be a shame, but this is about it."
NovoGradac's planned departure at the end of next year not only is inevitable - even if he would plant seedlings next year, it would be another six to eight years before they could reach maturity - but it also adds to a growing trend for the area.
These days there are but a handful of cut-your-own operations in Douglas County, their ranks thinned out by aging operators, pest problems, creeping development and from physical and financial fatigue.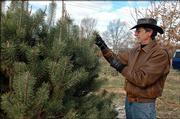 For profits that have been estimated to run about $200 an acre, perhaps it's a miracle there aren't fewer people in the business.
"It's tough," said Eric Walther, who launched Strawberry Hill Christmas Tree Farm in 1977. "That's why people get in and get out."
Walther recalls periods in the 1980s and 1990s where more than a dozen cut-your-own operations were up and running in the county, giving families a chance to establish holiday traditions of picking out a live tree, cutting it down themselves and hauling it home after enjoying a hay ride and slurping down a cup of hot cider.
Plant, watch, wait
What many people don't understand, he said, is all the work that goes into producing a single scotch pine, white pine or any other variety that eventually stands up as a Yuletide focal point:
¢ Plant 1,000 seedlings a year, each in a hand-dug hole 10 inches deep. "With each of those, there's three deep-knee bends. When you've planted 1,000 trees, that's 3,000 deep-knee bends. That cuts some people out right there."
¢ Pray for rain. Walther hopes for at least an inch a month for five months, following plantings in late March or early April. "It's cold and unfathomable. The first time I planted it was spitting snow and misting."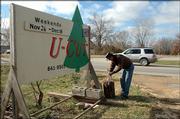 ¢ Watch for trouble. He checks for sawflies and sprays pesticides for them. "Initially they're eight inches long, and they can strip a tree; they have a voracious appetite." Same goes for white scale, tip moths and other challenges that can wipe out a crop. "I have to spray each individual tree, and I may have to do it twice."
¢ Mow. That's six times during the summer, each run taking 50 hours.
¢ Prune. At three to four minutes for each of his 13,000 trees, that's a lot of handiwork.
¢ Wait. And hope.
"Just because you have a tree in the ground doesn't mean you have one ready to sell," Walther said. "Those first eight years of feeding the golden goose - and it won't lay an egg for you - that gets a bit tiresome. Especially when it's 100 (degrees) in the field, and there's no breeze, and it's 110 (degrees) out there. It takes a hardier effort than a lot of people are willing to put forth.
"A lot of people don't like to do that. I had to do that for seven years before we sold our first tree, before any money changed hands. I figure it took us 13 or 14 years before we got into the black, to show a profit. Everything before that was expense."
Still growing
These days, Walther and his wife, Lyn, are reaping the harvest of their hard work. They're open seven days a week until they sell out of harvest-ready trees, serving up cider and hay rides along the north side of U.S. Highway 40, about a mile west of the South Lawrence Trafficway.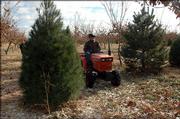 Strawberry Hill Christmas Tree Farm remains out of the reach of Lawrence's ever-expanding development, unlike Little Pine Timber Co., which abuts the city's expansion of Peterson Road to accommodate new homes and the traffic that go along with it.
Other producers have had their trees wiped out by disease, or watched as their children declined to carry on the cut-your-own businesses that had been established years earlier. Others bought into operations, only to lose ground when they couldn't keep up with necessary maintenance.
While their ranks continue to dwindle, those still in the market report strong business. Strawberry Hill expects its best crowds this weekend and next, and Prairie Elf Christmas Trees, near Lone Star Lake, continues to draw crowds.
Back at the edge of North Lawrence, NovoGradac is taking stock of his situation. His business is known as "Chestnut Charlie's, as he grows and sells organic chestnuts on the farm and sells them for $3.75 to $4.50 a pound wholesale, or even $5 a pound at selected retail outlets.
Lost chestnuts
Only this year, after expecting more than 4,000 pounds to harvest, NovoGradac doesn't have any. A springtime freeze killed off the blooms of his chestnut trees, leaving him only with pine trees to produce any revenue this holiday season.
He knows it won't last.
"It turned out to be a lot harder than we thought - the shearing, the pest control and everything else," said NovoGradac, who runs the operation with his wife, Debbie Milks. "The margins are so small, it's really got to be a hobby. You just can't make a living at it."
Copyright 2018 The Lawrence Journal-World. All rights reserved. This material may not be published, broadcast, rewritten or redistributed. We strive to uphold our values for every story published.