Baghdad, Iraq — Insurgents launched a coordinated ambush against Iraqi soldiers northeast of Baghdad on Saturday, detonating a roadside bomb and then firing on the patrol, killing 19 and wounding two, officials said.
The attack took place near Adhaim, about 60 miles from Baghdad, Iraqi officials said. It came two days after a roadside bomb killed 10 U.S. Marines and wounded 11 others on a foot patrol near Fallujah in the deadliest attack against American forces in four months.
Elsewhere, a U.S. base at Mosul's airport came under mortar or rocket fire Saturday, wounding two American soldiers, the U.S. military said. Several detonations shook the installation - Forward Operating Base Courage - about 6:50 a.m. the command said.
In Berlin, the German government said it was making intense efforts to secure the release of an aid worker and her driver kidnapped in Iraq on Nov. 25. In a video made public Tuesday, kidnappers threatened to kill Susanne Osthoff, 43, unless Germany stops dealing with the Iraqi government.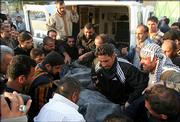 Foreign Minister Frank-Walter Steinmeier told reporters that "regrettably, we have not succeeded in the first week in establishing, indirect or directly, contact with the kidnappers."
Chancellor Angela Merkel has said Germany will not be "blackmailed" in the case.
Germany ardently opposed the U.S.-led invasion of Iraq and refused to send troops there. However, it has been training Iraqi soldiers and police outside the country.
The Al-Jazeera network broadcast a videotape and statement Friday in which the kidnappers of four Christian peace activists threatened to kill the hostages - two Canadians, an American and a Briton - unless all prisoners in U.S. and Iraqi detention centers were freed by Dec. 8.
Foreign Office Minister Douglas Alexander, interviewed by the British Broadcasting Corp., condemned the release of the latest hostage video.
"We are concerned about the welfare of the hostages and we deplore the release of these videos, not least because of the great distress to the family of (British hostage) Mr. (Norman) Kember and the other families involved, but our policy on this is well-established," he said.
A leading member of the British anti-war movement, Anas Altikriti, arrived Saturday in Iraq to try to win the release of the hostages.
The Christian activists - Kember, 74, of London; Tom Fox, 54, of Clear Brook, Va.; James Loney, 41, of Toronto; and Harmeet Singh Sooden, 32, of Canada - had been repeatedly warned by Iraqi and Western security officials that they were taking a grave risk by moving about Baghdad without bodyguards.
The activists were members of the Chicago-based Christian Peacemaker Teams. On Saturday, the group appealed to kidnappers to release their hostages.
"I would appeal to them and say that you are mistaken about who these four men are," group member Peggy Gish told The Associated Press in the Jordanian capital, Amman.
"They are really working for peace and justice. They are helping you and other Iraqi people."
The ambush against the U.S. Marines from Regimental Combat Team 8 occurred Thursday outside Fallujah, the former insurgent bastion overrun by U.S. forces in November 2004. All those who died were from 1st Marine Division, based at Twentynine Palms, Calif., the Defense Department said.
The U.S. command did not release many details of the attack, but a witness said it occurred at a mill in the village of Amiriyat al Fallujah, just outside the city. The bomb was fashioned out of four large artillery shells, U.S. officials said.
Copyright 2018 The Associated Press. All rights reserved. This material may not be published, broadcast, rewritten or redistributed. We strive to uphold our values for every story published.