This time there were smiles and roses.
That was in stark contrast to the last time Melodie Miller was in a courtroom, watching her father be sentenced to life in prison for murdering her mother.
"When something like this happens, it's kind of hard to become normal again," Melodie said. "I'll go back and I'll live life. I won't forget what's happened, but you've got to move on."
And that's exactly what happened Tuesday afternoon during a closed hearing in a Douglas County Courtroom.
Convicted murderer Martin K. Miller signed away his parental rights, those at the hearing said, and longtime family friends, Joe and Ann Ozorkiewicz, became permanent legal guardians to 12-year-old Matthew and 15-year-old Melodie, the children of Martin and Mary Miller.
"The paperwork was signed, and now it is official," Ann Ozorkiewicz said. "It's permanent guardianship, it's irrevocable and it's wonderful."
The brief court hearing, which Martin Miller did not attend, was much different from earlier court proceedings.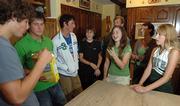 Smiles replaced tears, several family members carried red roses and, after the hearing, they gathered for pictures of the "new" family.
"It's a new beginning, a fresh start, a clean slate," Melodie said. "I've known the whole (Ozorkiewicz) family since birth, so it's a comfortable situation already."
The Miller children spent a short time in foster care after the arrest of their father in late July of last year.
Martin Miller was later convicted of first-degree murder. A jury found him guilty of strangling his wife as she slept. Last month, he was sentenced to life in prison
Joe and Ann Ozorkiewicz, who have four children, said they never questioned taking in two more.
"Mary had no family. We tried to find relatives, and there aren't any, so the kids were on their own," Ann Ozorkiewicz said. "I really feel like God put us in the right place at the right time."
She said her family couldn't have made it through the past year without the support of the community. Members of two different churches helped feed and clothe the children. Some even pitched in to help with the laundry.
"The kids came with nothing basically," Ozorkiewicz said. "It's been very emotional and a little bit stressful, but they're great kids and they fit right in."
Both children are now back in school. Matthew is an eighth-grader at West Junior High. Melodie is beginning her sophomore year at Free State High School.
Both are trying to put the past behind them.
"You can't just sit around thinking about what's gone wrong for you and having a pity party," Melodie said. "The point is, there are a lot of people who are worse off than I am. I still have a brother and awesome people I'm living with."
"Everyone decided it would be less traumatic for the kids if they stayed in the community they were raised in," said Ocoee Miller, Martin Miller's mother, noting that the children's wishes were to live with the Ozorkiewiczes.
As far as her father is concerned, Melodie said she's considering visiting him in prison. Martin Miller is being held at the El Dorado Correctional Facility. His earliest possible release date is June 7, 2030. Melodie would be 40 years old then.
"Probably sometime in the next year, I'll go visit him," she said. "I have a couple of matters to take up with him, and I want to ask him a few questions."
Timeline of events in the Martin K. Miller murder case
July 28, 2004 Mary E. Miller, a Kansas University librarian, is found dead in her bed. Three days later, Martin K. Miller, a carpenter, is arrested on suspicion of killing his wife.
Aug. 2, 2004 Prosecutors formally charge Martin K. Miller with murder.
Aug. 10, 2004 Miller pens a tribute to his late wife in a letter that was read at Victory Bible Church.
Sept. 2, 2004 A coroner rules asphyxia - lack of oxygen often caused by suffocation - killed Mary Miller.
March 9 Prosecutors allege during the preliminary hearing that Martin Miller strangled his wife so he could pursue relationships with other women.
June 20 After six hours of deliberation, the jury convicts Miller of first-degree murder.
July 20 Judge Paula Martin sentences Miller to life in prison with no chance of parole for 25 years.
Wednesday Miller signs away his parental rights, and family friends Joe and Ann Ozorkiewicz become guardians to 12-year-old Matthew and 15-year-old Melodie Miller.
Copyright 2018 The Lawrence Journal-World. All rights reserved. This material may not be published, broadcast, rewritten or redistributed. We strive to uphold our values for every story published.