Orlando, Fla. — The flood is coming, and in Orlando, it began with a visit from Bob Dole.
The former U.S. senator spoke Tuesday at the Florida Conference on Aging to drum up enrollment for the new Medicare prescription-drug program that begins in the fall.
Drug companies such as Pfizer, which paid for Dole's visit, the federal government and nonprofits are gearing up to deluge seniors with information on how to navigate the program and enroll.
"It's time to start thinking, 'What am I going to do as a senior?'" said Dole, who did not disclose how much Pfizer is paying him to stump for the federal drug benefit. "You're going to have to make choices."
Three million Floridians will be examining their options in the coming months as part of the program that will provide free prescription drugs for the poorest among them.
A third of the 41 million nationwide who qualify will have the limited income and assets that make enrolling a no-brainer, said Dr. Mark McClellan, head of the Center for Medicare and Medicaid Services in Washington.
Seniors with monthly incomes starting at less than $1,200, or $1,600 for couples, could qualify for little or no premiums or deductibles.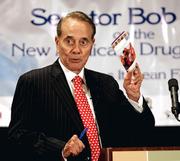 Most others must weigh several drug-benefit plans being sold by private firms that contract with Medicare. There are five categories of fees and co-payments based on seniors' finances. The benefit will cost most seniors about $32 a month in premiums.
"Only about a quarter of people are not going to be of low-enough income and need to decide what they want to do - enroll or not," McClellan said. "The question often isn't, 'Is this good for me?' It's getting you to sign up."
That's where the river of information begins. In October, the government will send out a booklet on the plans so that seniors can be ready when enrollment begins in November.
But nonprofit groups and drug companies - often operating in partnerships - have already unleashed their ads, mailings and speaking tours, such as Dole's, to get information out.
Critics said the private firms are promoting their own plans, not providing education.
Dole said he only encourages enrollment.
"I don't believe in any particular plan," he said. "We just have to reach out to people. Initially, it's going to be a real challenge. It's going to be confusing to a lot of people."
Some personal help is coming. The government will launch www.medicare.gov in October to let seniors and their families plug in their personal numbers to see what works best for them, McClellan said. Similar help will be available by calling 1-800-MEDICARE.
Dozens of nonprofit groups plan to sit down with seniors to go over the application and help sort through the benefits.
Copyright 2018 The Lawrence Journal-World. All rights reserved. This material may not be published, broadcast, rewritten or redistributed. We strive to uphold our values for every story published.