Chicago — Jerome Williams pitched with emotion.
Williams shut down the Atlanta Braves with his pitching arm, hurt them with his bat and left to a loud ovation - the loudest cheers presumably coming from his father Glenn Sr., who underwent a kidney and liver transplant in February.
With his dad in the stands for the first time this season, Jerome Williams took a no-hit bid into the fifth inning and had the first multihit game of his career to lead the Chicago Cubs to a 10-1 victory Tuesday night.
"(After) spring training and the trouble my family went through, just seeing my dad out there - just to know that he's here and supporting me - I had to step up," said Williams, who began the season with the San Francisco Giants. "I had to get on board, have a good start."
Williams (4-6) did just that.
He allowed one run and three hits in 72â3 innings, his longest outing this season. After walking Rafael Furcal leading off the game, he retired 11 in a row before Andruw Jones led off the fifth with his 40th homer.
At the plate, Williams was 2-for-4 with a single, a double and a run.
Mets 14, Diamondbacks 1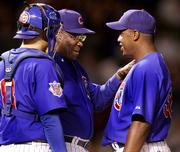 Phoenix - Ramon Castro drove in a career high five runs, and Mike Jacobs homered for the second time in three games since he was brought up from the minor leagues, leading New York.
Padres 2, Astros 0
San Diego - Jake Peavy outdueled boyhood idol Roger Clemens, throwing a four-hitter for his third shutout this season, and San Diego beat Houston. Peavy (11-6) also had a single off Clemens with one out in the eighth, one of five hits allowed by the seven-time Cy Young Award winner. Clemens threw his first complete game since July 30, 2003, at Anaheim, and the 118th of his career.
Dodgers 8, Rockies 3
Los Angeles - Jeff Weaver won his fifth straight decision and went 3-for-4 with a career-high three RBIs to lead Los Angeles. Weaver (12-8) allowed three runs and six hits in eight-plus innings. It was the 17th straight start in which the right-hander has lasted through the sixth.
Phillies 10, Giants 2
San Francisco - Rookie Ryan Howard returned to the starting lineup with a career-high four hits and three RBIs, and Vicente Padilla pitched eight strong innings to lead Philadelphia past San Francisco.
Pirates 10, Cardinals 0
Pittsburgh - Unbeaten rookie Zach Duke pitched two shutout innings before leaving because of a sprained left ankle, and Pittsburgh defeated St. Louis.
Reds 6, Nationals 2
Washington - Luke Hudson allowed four hits over a career-best seven innings, and Cincinnati batted around in a four-run third against Tony Armas Jr. to beat Washington. The Reds improved to 4-0 this season against the Nationals - even though Nos. 3 and 4 hitters Ken Griffey Jr. and Adam Dunn were a combined 1-for-10 with five strikeouts.
Brewers 11, Marlins 2
Milwaukee - Chris Capuano pitched eight strong innings, and Carlos Lee homered for the first time in three weeks in Milwaukee's rout.
Copyright 2018 The Associated Press. All rights reserved. This material may not be published, broadcast, rewritten or redistributed. We strive to uphold our values for every story published.