COLOGNE, GERMANY — Hundreds of thousands of pilgrims streamed into the west German city of Cologne on Wednesday for the Roman Catholic Church's 20th World Youth Day, visiting the city's historic cathedral and awaiting a visit from the pope.
Visitors celebrating their faith packed the square in front of the cathedral and surrounding streets, waving their national flags and singing songs - in Spanish, French, German, English, Polish and Romanian. Some 325,000 people poured into the city.
Even more were expected during the week, eager to catch a glimpse of the German-born Pope Benedict XVI, who was to arrive Thursday on his debut foreign trip and first return home since his April 19 election.
Outside Cologne Cathedral, its soaring twin spires silhouetted by the bright sunshine, thousands of people waited in long lines to get inside.
Alexandra and Andrea Di Lallo, sisters who were part of a group from St. Raymond parish in Candiac, a suburb of Montreal, Canada, were among those waiting.
"We're just trying to get into the cathedral right now," said Alexandra, 18. "There's actually relics in the basement - the three Magi," Andrea said, referring to what tradition says are the remains of the three wise men who visited the infant Jesus.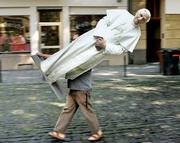 Alexandra said they were eager to see the new pope, but acknowledged sadness that John Paul II would not be there.
"Of course there's a bit of disappointment because John Paul was the only pope I had ever known," she said of the late pope, who died April 2. "We don't know this pope and we're waiting to see what he's like. ... It's excellent that this pope is continuing his legacy."
Sylvie Gueye, a 28-year-old human resources manager from Dakar, Senegal, said the trip was "a way to express my faith in God, and a chance to share my opinions with other people, to share our culture, too."
She said she was eager to see the pope, but that wasn't all.
"Yes, he is a great man, we want to see him, but the main reason is to see how Jesus Christ lives in others, even if they are not Senegalese, to see how our religion is lived in other countries," she said.
Herman Josef Johanns, head of the group that organized the biennial event, said nearly 350,000 pilgrims had arrived in the region since festivities began Tuesday. Approximately 450,000 have registered to attend and nearly 1 million are expected for Benedict's open-air Mass on Sunday.
While in Cologne, Benedict is scheduled to visit the city's oldest synagogue and will meet with the leaders of Germany's Muslim minority.
Copyright 2018 The Associated Press. All rights reserved. This material may not be published, broadcast, rewritten or redistributed. We strive to uphold our values for every story published.