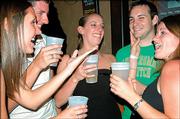 Tuition, rent and utilities aren't the only expenses for Kansas University students.
At the request of the Journal-World, four KU students kept tabs on their spending habits for the spring semester. All four - Elisa Zahn, Jodie Krafft, Brent Fry and Jacquelyn Pedigo - managed to pack some fun between their basic bills. There were weekly gatherings at various Lawrence watering holes, a bachelorette party and spring-break trips to Las Vegas and Panama City, Fla., to account for.
Also, there was the occasional bump in the budget, like a shattered windshield or extra trips home to prepare for a July wedding.
Here's a glimpse at how the students spent their money from January to May:
Elisa Zahn
Senior
Littleton, Colo.
Elisa Zahn made sure she had a good time during her final semester at KU. The recent KU graduate and her buddies frequented the Cadillac Ranch, Hawk, Sandbar, Tanner's, Abe & Jake's Landing, Mad Hatter, Louise's Downtown, Brothers and Yacht Club on separate weeks in the spring semester. The nights out resulted in more than $400 from her pocket.
"I felt regrets sometimes when I figured how much I spent at a bar," Zahn said. "Afterward, I'd look in my wallet and there wouldn't be any money left and say, 'Oops, I shouldn't have spent that.'"
Zahn figured she would have spent more at the bars if not for a generous boyfriend.
"For the last two months I've been dating this guy and he pays for all my drinks at the bar," Zahn said in mid-May. "I think there's a huge difference between guys and girls when they go out and how much money they spend."
Zahn spent $10,759.63 in the spring semester. More than $5,000 was for tuition and fees for the Columbine High School graduate. Scholarship money covered most of her school costs.
"I essentially went to school for free," said Zahn, a Spanish and journalism major who started in May as an advertising representative at Sunflower Broadband.
She also said she had an affordable arrangement with rent and utilities, paying a combined $350 a month in a three-bedroom townhome.
Elisa Zahn's expenses
Transportation: $1,638.38 Books: $158.99 Dues: 0 Meals: $624.94 Tips: $20.73 Entertainment: $437.45 Rent: $1,080 Utilities: $509.89 School expenses: $5,308.67 Clothing: $397.46 Travel: $270.71 Personal items: $212.60 Furnishings: $19.60 Miscellaneous: $62.86 Health care: $17.35 Total: $10,759.63
A part-time job at the recreation center helped Zahn pay for extra expenses. She also saved money from her job as a lifeguard as a teenager in Colorado.
Zahn encountered an unexpected expense in April, when a softball shattered the windshield of her Saturn. The cost: $402.38.
"That was definitely not expected," she said. "I was at an intramural softball game, sitting in my car. I was hoping it would hit the side of my car."
Zahn said she learned to manage better throughout college. Habits improved a lot between freshman and senior year.
"If I didn't balance a checkbook, I would bounce checks all the time, which I did my freshman year," she said. "I don't see any point in extra purchases. I got by on necessities. I didn't feel like I lived deprived.
"I probably did less shopping because I would only go when I needed things, like a dress for someone's graduation or a skirt for an interview. When I was a freshman, I would go all the time."
Other than having two ski trips paid for by her parents, Zahn paid for college by herself.
"I like the fact I paid for everything myself," she said. "I wanted to be able to say, 'I put myself through college.'"
Jodie Krafft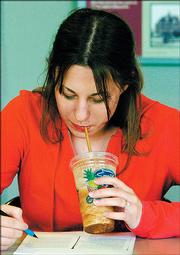 Senior
Phillipsburg
Jodie Krafft, a Spanish and journalism major, wasn't accustomed to keeping a detailed budget.
"I did start watching what I was spending knowing that I was going to have to write it down every time," said Krafft, who spent $5,386.99 for the semester. "Being so busy this semester with school really curbed my spending on other things. I didn't have a lot of free time to go shopping, taking trips to Kansas City. I was locked in my room studying."
Her spending habits in the spring were curtailed because she was saving money to help pay for a July wedding. However, preparing for the wedding resulted in several trips to her parents' home 290 miles away in north-central Kansas. Not a good trip with gas prices well over $2 a gallon.
"I went home to Phillipsburg a lot to do wedding planning," said Krafft, a reporter for the Ottawa Herald. "I did that the first of the semester. I was spending 25 bucks to get there, then 25 bucks to get back. Gas turned into an enemy."
Scholarships, grants and part-time work through KU's tutoring service were Krafft's friends. She lived in a three-bedroom apartment. Her share of the rent: $246.67.
Jodie Krafft's expenses
Transportation: $346.42 Books: $349.33 Dues/memberships: $20 Meals: $330.12 Tips: $45 Entertainment: $130.97 Rent: $1,016.68 Utilities: $218.76 School expenses: $2,431.77 Clothing: $123.88 Personal items: $35.05 Miscellaneous: $271.01 Health care: $68.08
Krafft didn't spend much on meal money. She spent just $330.12 on food.
"Any time I'd go out, my fiance (Luis Garcia Garcia) would always insist on paying," she said. "It was saving me money. I was going out to eat a lot. We rent movies a lot."
Krafft spent $130.97 on entertainment-related items. A good chunk - $124.13 - was spent in mid-April for a bachelorette party in Kansas City.
During the semester, Krafft developed a need for coffee, especially while writing papers in Spanish for three classes.
"I drank a serious amount of coffee to stay awake," Krafft said.
If Krafft came up short at month's end, she did have a safety net.
"If I was cutting it close, my parents would cover me," she said.
Brent Fry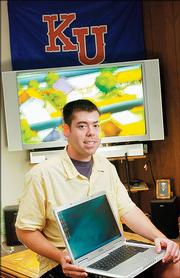 Graduate student
Lenexa
Besides tuition, rent and utility costs, graduate student Brent Fry wasn't going to overlook the value of entertainment.
His entertainment purchases included a pingpong table, HDTV and spring-break trip to Las Vegas that accounted for $2,359.27 of his total $13,110.06 expenses during the spring semester.
Fry also purchased a $2,700 Dell computer in early March.
"I would not go out and waste a lot of money, but if I had the money to buy something I wanted, I would not hesitate to buy it," said Fry, who describes his spending habits as a mix between conservative and big spender. "The TV was probably something I could have lived without, but I thought it'd be nice to have. I need the computer because my old one was giving me problems."
Fry, who has a degree in accounting and business administration, rented a house with two other guys. His share of the rent: $325.
Fry took nine hours in the spring - six at KU and three Washburn University in Topeka. His parents helped pay for rent and utilities. He also worked part-time at the Bogner and Long accounting firm.
A monthly budget helped Fry track his spending.
Brent Fry's expenses
Transportation: $532.18 Books: $240 Dues/memberships: $235 Meals: $1044.49 Tips: $96.50 Entertainment: $993.32 Rent: $2,020 Utilities: $369.98 School expenses: $2,952.14 Clothing: $32.65 Personal items: $281.28 Furnishings: $4,309.27 Miscellaneous: $3.25 Health care: 0 Total: $13,110.06
"I would stick to the budget 99.9 percent of the time," he said.
He spent $750 on a trip to Vegas, which was well-worth it.
"I had a certain amount of money I could spend each day," he said. "It actually went better than planned because I ended up winning money out there."
Fry has used a spreadsheet to budget his expenses for a couple of years. He suggested all students prepare a budget.
"Try to estimate what your monthly income should be and then estimate what expenses they may have, such as rent, utilities, car payments, insurance, groceries, gas, etc.," he said.
Students can avoid pitfalls, he said, by managing a budget.
"A lot of students get into trouble toward the end of each month because they don't budget their money early on in the month, so they end up overdrawing on their accounts and depend on mommy and daddy to bail them out," he said.
Jacquelyn Pedigo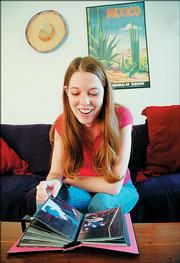 Senior, Wichita
Communication studies major
Loans, scholarships and grants helped recent KU graduate Jacquelyn Pedigo pay for college. Any extra expenses came out of her own pocket.
"I was on my own for college," she said. "My parents pay for my cell phone, and that's it. I usually pay for myself. I have a hard time having people pay for me."
A spring-break trip to Panama City, Fla., accounted for a big expense her final semester at KU. She spent $750, which covered the flight, hotel and expenses there.
In the final seven weeks of the semester, Pedigo never spent more than $420. Other than rent, the biggest check she had to write in April and May was for car insurance ($183).
"I don't usually spend a whole lot," said Pedigo, who left Lawrence graduation day for Orlando, where she had an internship at Sea World. "Most of what I spend is on eating out. This semester I hardly bought any clothes or anything. It was mainly bills and rent."
Pedigo roomed with her twin sister and an aunt. Her share of the rent was $300, and the three formed a group checking account.
"Each semester we put a certain amount of money into it," she said. "That way we can pay for bills and groceries without saying, 'You owe me $10.50' every couple of weeks. It makes it a lot easier."
Managing money had been ingrained in her since childhood. She said she learned a lot from her parents on how to get by with limited financial resources.
"My parents have always struggled with money," she said. "I think that's why I fight so much to be financially independent. That makes me a lot less inclined to go out with my friends every weekend. I might go out once a month because I know it costs so much."
Copyright 2018 The Lawrence Journal-World. All rights reserved. This material may not be published, broadcast, rewritten or redistributed. We strive to uphold our values for every story published.