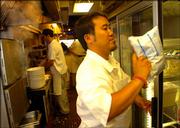 Subarna Bhattachan went to Boston a few weeks ago for a niece's wedding. Last year, he went back to his home country of Nepal for his uncle's funeral.
But Bhattachan says the last time he took a vacation - a real vacation, the kind where you take a trip to have fun and relax - was five years ago, when he and his wife toured Nepal and Thailand.
"It's just, you know, my wife works full-time and we have to coordinate our vacation time," said Bhattachan, who co-owns and manages La Parilla and Zen Zero restaurants in downtown Lawrence. "Mostly, we're just too busy because of running two businesses. And we have a little son who's 3 years old - it's kind of hard to take vacation."
It's difficult for many people to take vacation. Recent studies show that Americans don't take all the vacation that they can in any given year - typically leaving an average of three vacation days on the table.
And Americans don't get all that much vacation to begin with. According to the study by Expedia.com, a travel Web site, U.S. workers receive an average of just 12 days of vacation a year - less than a third of the 39 days enjoyed by the French, the world's vacation champions. British and Canadian workers take an average of 23 and 20 days of vacation, respectively.
Part of that is cultural, said Jim Guthrie, a business professor at Kansas University. Around the world, he said, Americans are seen as a little more hard-charging, with a greater propensity to work when others are relaxing.
Guthrie said he once lived in New Zealand, where Americans on staff had a reputation for working weekends.
"The Kiwis said the Americans there were ruining things for them," Guthrie said with a laugh.
But Guthrie added that European laws tend to provide workers with greater job security and more mandated vacation time than in America.
"Clearly, if you're in a place where the threat of termination is higher - as opposed to a country where job protection is higher - you're less likely to be relaxed, including taking vacation days," Guthrie said.
And sometimes vacations aren't all that relaxing. Lawrence resident Lawrence Dreyfus, the dean of biological sciences at the University of Missouri-Kansas City, took this week off from work. He was relaxing at a downtown coffee shop Wednesday morning, but said he would have to return to Kansas City for a couple of meetings during the week.
"It's just impossible to get away," Dreyfus said. "That's typically the case."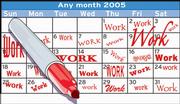 The Expedia.com report showed that 10 percent of workers think they're too busy to get away. Another 12 percent said the need to schedule vacation in advance was a barrier. And 13 percent said they wanted money they got from their employers for not taking the vacation days.
"Some of it has to do with the fact they feel there's too much work, they can't get away, or they feel like they'll be frowned upon by their boss or coworkers," said Katie Deines, a spokeswoman for Expedia.
Vacations are helpful to workers, she said.
"There is a reason companies give vacation, and it's to reinvigorate their employees," Deines said.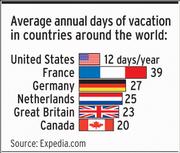 But there might be other reasons some workers stay at work.
Tom Lohmeyer, a financial adviser with Piper Jaffray in Lawrence, said the last real vacation he took was four years ago, to Hawaii. Since then, there's been a number of three- and four-day weekends to visit grandkids in Denver and a son in Chicago.
"I have so much to do," he said. "The kind of business I'm in, you never get caught up. I enjoy what I'm doing, and I've got to stay on top of it because the market's always changing."
-->
Copyright 2018 The Lawrence Journal-World. All rights reserved. This material may not be published, broadcast, rewritten or redistributed. We strive to uphold our values for every story published.