Baghdad, Iraq — The Iraqi government on Thursday announced an ambitious plan for improved border protection and intelligence gathering and for the formation of an elite Iraqi force to prepare the embattled country for an eventual drawdown of American troops.
Iraqi Prime Minister Ibrahim al-Jaafari's announcement of the 12-point security program follows a particularly bloody week for U.S. forces battling Sunni Muslim insurgents in western Iraq. At least 24 Marines have been killed in action in the past week, underscoring the sophistication and persistence of an enemy that fledgling Iraqi forces are so far unable to combat on their own.
President Bush, speaking in Crawford, Texas, dismissed a threat by Ayman al-Zawahri, the No. 2 al-Qaida leader, to kill tens of thousands of U.S. troops in Iraq.
"We will stay the course," Bush said. "We will complete the job in Iraq. And the job is this: We'll help the Iraqis develop a democracy."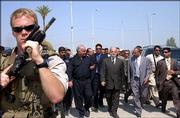 Bush also expressed condolences for the families of the Marines killed in Iraq.
"I hope they can take comfort in the fact that millions of their fellow citizens pray for them. I hope they also take comfort in the understanding that the sacrifice was made in a noble cause," Bush said.
In Baghdad, al-Jaafari said multinational forces would stay in Iraq.
Also on Thursday, the U.S. military said three soldiers died when their vehicle was hit by a car bomb in southwest Baghdad on Wednesday night and that a Marine was shot to death in Ramadi, the capital of the volatile Anbar province west of Baghdad.
The Marine was killed Wednesday, the same day 14 other Marines and their Iraqi translator died in the town of Haditha when their armored vehicle was ripped apart in the deadliest roadside bombing of a U.S. combat vehicle since the war began.
On Monday, six Marines died near Haditha when their foot patrol came under small-arms fire, and a Marine fighting near Hit was killed by a suicide car bombing.
Copyright 2018 The Lawrence Journal-World. All rights reserved. This material may not be published, broadcast, rewritten or redistributed. We strive to uphold our values for every story published.