The owner of the Lawrence Burger King franchise plans to cover a $10,400 bill for a remodeling job it already paid for, after a disgruntled subcontractor sent one of its own employees to town to encourage customers to boycott one of the restaurants.
Shan Ali, vice president for Genesh Inc., which owns 28 Burger Kings, including three in Lawrence, said his company's attorney was working to pay money owed to Mid-Central Tile, of Grain Valley, Mo., which had installed floors, countertops and tile inside the restaurant at 1107 W. Sixth St. a year ago.
Thursday's decision to pay the bill came after a Mid-Central Tile employee and a friend had set up patio chairs outside the restaurant, then raised a sign calling for people to "please boycott this Burger King" because of the unpaid bill.
Ali said Genesh already had paid more than $180,000 to I Solutions Inc., the project's Culver City, Calif.-based general contractor. But I Solutions apparently had financial problems and didn't pay all of its subcontactors, leaving Mid-Central and others with nowhere else to turn but the place they did the work.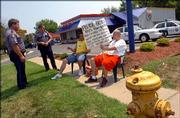 Attempts to reach I Solutions on Thursday were unsuccessful. Its phone has been disconnected.
"We'll get our money or somebody will be out of business," said Aaron Brackett, whose boss at Mid-Central paid him $12.50 an hour to drive to Lawrence and promote the boycott at Burger King.
The pressure worked.
Soon after Burger King's lunch traffic slowed - Thursday's crowd was nearly half the normal size - Genesh officials decided to pay the bill, even as they pursue legal action against I Solutions.
"Ultimately, it's Burger King's reputation," said Anuj Arora, district manager for Genesh.
Such added costs - plus hiring other contractors to finish the work left behind by the general contractor - have left the project with a price tag approaching $320,000, Genesh officials said.
Brad Jobe, owner of Mid-Central, said it was the first time he'd ever paid one of his own employees to picket another business.
"As long as I get paid," he said. "I feel like I've won."
Copyright 2018 The Lawrence Journal-World. All rights reserved. This material may not be published, broadcast, rewritten or redistributed. We strive to uphold our values for every story published.