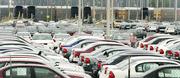 Detroit — The Big Three U.S. automakers are extending programs that let customers buy vehicles at employee prices after sales for the entire industry leaped in July, but analysts warned Tuesday that automakers could see some payback this fall.
General Motors Corp., Ford Motor Co. and DaimlerChrysler AG's Chrysler Group saw their combined results climb 26.5 percent in July. Car sales rose modestly, up 4.2 percent, but truck demand shot up 36.7 percent.
The bevy of deals also helped foreign automakers attract customers. Toyota Motor Corp., Nissan Motor Co. and Hyundai Motor Co. all said July was their best-ever U.S. sales month, even thought they didn't offer similar discounts. BMW and Mercedes-Benz, two of the major European players, set sales records in July as well, as did South Korea's Kia Motors Corp.
Of the Big Three, Ford, the nation's No. 2 automaker behind GM, had the biggest month-over-month increase - 35.5 percent over last July. Sales of Ford, Lincoln and Mercury trucks gained 38 percent, while car sales rose 26.7 percent. The discount gave a lift to what had been a lackluster year for Ford, whose overall sales increased just 1.7 percent in the first seven months of the year versus a year ago.
Copyright 2018 The Associated Press. All rights reserved. This material may not be published, broadcast, rewritten or redistributed. We strive to uphold our values for every story published.