Manhattan — It wasn't hard to tell who was the ace pitcher during Friday night's Sunflower Series opener at Kansas State's Tointon Stadium.
Maybe just a little surprising.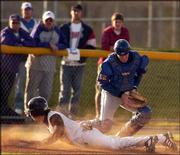 Kansas University's top pitcher, Kodiak Quick, took the mound with an 8-4 record looking to become the first Jayhawk since Pete Smart in 2001 to record at least nine victories in a season.
But K-State quickly lit up Quick in the first inning for five runs on four hits. The Wildcats added lone runs in the seventh and eighth, and KSU pitcher Chase Mitchell flat-out dominated the Jayhawks, throwing a two-hit, complete-game shutout in a 7-0 KSU victory.
"He pitched like he was a big-time Friday-night starter in this conference," KU coach Ritch Price said of Mitchell, who entered the game with just a 4-5 record and 5.66 earned-run average, but tossed five strikeouts and retired 17 straight Jayhawks.
"It's like the first time we've been dominated all year," continued Price, whose 27-21 squad snapped its three-game win streak and slid even further in the Big 12 Conference cellar as it fell to 4-11 in league play.
Mitchell was outstanding even though he wasn't overpowering on a chilly night where the ball hung in the air in front of 1,194 mostly purple-clad fans.
The 6-foot-3, 220-pound junior right-hander struck out three of the first four KU batters he faced with them not even taking the bats off their shoulders.
"Definitely, since I've been here, that was one of my better outings," Mitchell said. "We were pretty fired up. We knew we needed this series because it's getting down to crunch time in the conference."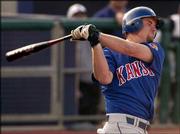 The Wildcats (23-18 overall, 7-12 in Big 12), who entered the weekend tied with Texas A&M; for the final conference tournament spot, wasted no time taking KU to task in the lone game of this weekend's three-game series to be played in Manhattan. Tonight's 7 p.m. contest and Sunday's 2 p.m. start will be at Kansas University's Hoglund Ballpark.
Quick retired KSU leadoff batter Terry Blunt on a flyout to left to start the game. But a booted ball by KU freshman third baseman Erik Morrison -- the Jayhawks had two errors Friday to give bring their league-worst total to 89 on the season -- on KSU catcher Brandon Farr's hard grounder began the Wildcats first-inning festivities.
Second baseman Jared Goedert, who led KSU with a 3-for-5 performance, followed with a sharp single to right, and clean-up hitter Steve Murphy walked to load the bases. Kansas State's Joe Roundy smacked a single to right to plate two Wildcats, and a sacrifice fly by Cris Tapia scored a third runner.
A wild pitch by Quick gave K-State its fourth run, before Eric Eymann smashed a double that bounced to the wall in left-center to give the Wildcats their fifth score.
KU's Andy Scholl stopped Mitchell's bid for a perfect game with a single with two outs in the second inning.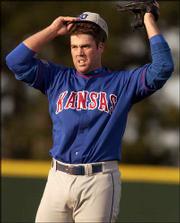 After that, though, Kansas -- which had averaged more than 10 runs a game over its last five contests -- couldn't muster anything at the plate.
Mitchell ran into trouble in the fourth when he walked the first two Jayhawks he faced, but got out of it when he began his string of 17 straight outs.
"You've got to give that guy credit," said KU outfielder A.J. Van Slyke, whose bloop single past second with two outs in the ninth stopped Mitchell from tossing the first one-hitter for the Wildcats since the Big 12's inception. "He came out and threw the ball well. He was ahead in the count of almost every hitter. The umpire was giving him a few inches on each side, and he hit his spots. When a guy comes out and pitches like that, you're going to have a tough time scoring runs no matter how good a hitting team you are."
KANSAS
ab
r
h
bi
Matt Baty cf
4
0
0
0
Ritchie Price ss
3
0
0
0
A.J. Van Slyke lf
3
0
1
0
Gus Milner rf
4
0
0
0
Sean Richardson c
3
0
0
0
Andy Scholl 1b
3
0
1
0
Ryne Price 2b
3
0
0
0
Travis Dunlap dh
3
0
0
0
Erik Morrison 3b
3
0
0
0
Totals
29
0
2
0
KANSAS STATE
ab
r
h
bi
Terry Blunt lf
5
0
2
0
Brandon Farr c
5
1
2
1
Jared Goedert 2b
5
2
3
0
Steve Murphy rf
3
1
1
1
Joe Roundy dh
4
1
1
2
Josh Dent cf
4
1
1
0
Cris Tapia 1b
2
0
1
1
Eric Eymann ss
3
0
1
1
Eli Rumler 3b
4
1
0
0
Totals
35
7
12
6
| | | | | | |
| --- | --- | --- | --- | --- | --- |
| Kansas | | 000 | 000 | | 000 -- 0 |
| Kansas State | | 500 | 000 | | 110 -- 7 |
E-- Morrison, 2. LOB-- K-State 8, KU 4. 2B--Goedert, Murphy, Eymann. SB--Farr, Dent. SH--Eymann. SF--Tapia.
IP
H
R
ER
BB
SO
KANSAS
Kodiak Quick L,8-5
72/3
11
7
3
2
4
Clint Schambach
1/3
1
0
0
0
0
KANSAS STATE
Chase Mitchell W,5-5
9
2
0
0
2
5
WP--Quick, 2. T--2:17. A--1,194.
Copyright 2018 The Lawrence Journal-World. All rights reserved. This material may not be published, broadcast, rewritten or redistributed. We strive to uphold our values for every story published.