Phoenix — A surrogate mother carrying quintuplets for a childless couple walked into the delivery room on her own Tuesday and gave birth to five boys.
Teresa Anderson, 25, delivered the quintuplets by Caesarean section. One of the babies was born with a defective heart; the others were said to be doing fine.
"Quintuplets are very, very difficult to carry," said Anderson's obstetrician, Dr. John Elliott. "To do that for someone else is extraordinary."
Elliott added that he'd never seen a woman carrying quintuplets walk into the delivery room on her own.
"She's happy. She's smiling now. She's relieved," said Anderson's husband, Jerad, several hours after the surgery at Banner Good Samaritan Medical Center.
The babies were delivered in just five minutes and were named Enrique, Jorge, Gabriel, Victor and Javier by their genetic parents, Luisa Gonzalez and Enrique Moreno.
Gabriel was the largest, at 3 pounds, 15 ounces; Javier the smallest, at 3 pounds, 7 ounces. Enrique was 3 pounds, 14 ounces; Jorge 3 pounds, 13 ounces; and Victor 3 pounds, 8 ounces.
Anderson had agreed to carry the couple's child to earn $15,000, and five embryos were implanted to increase the chances that at least one of them would take hold. After discovering all five embryos were developing, Anderson declined to accept any payment from the couple because of the expenses they will face.
For Gonzalez and Moreno, the births were the culmination of more than a decade of trying to start a family.
Gonzalez said she began to cry when she saw the first baby, Enrique, delivered. "I've been waiting for this for a long time," she said.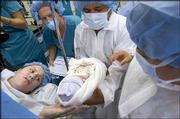 Moreno is a landscaper, and Gonzalez will be a stay-at-home mother. The couple said they are not sure how they will handle the financial burden of the new brood in their three-bedroom suburban Gilbert home. "We'll do the best we can. I know God will help us," said Gonzalez.
Javier was taken to Phoenix Children's Hospital because the left side of his heart was underdeveloped and could not properly pump blood. He was reported in stable condition.
Dr. John Stock, the pediatric cardiologist who diagnosed his heart problem, said children with the defect must either undergo a series of operations to fix the problem or get a heart transplant. Javier's small size means surgery is the only real option for his survival.
The babies were born in the 33rd week of Anderson's pregnancy, a week earlier than planned because the mother was experiencing elevated blood pressure and other complications. A full-term pregnancy is 40 weeks.
Anderson, a nursing student, and her husband, a postal carrier, have two children.
Copyright 2018 The Associated Press. All rights reserved. This material may not be published, broadcast, rewritten or redistributed. We strive to uphold our values for every story published.