It's a dream come true, country style.
Lawrence residents Aaron Landis and Lynette Stand recently found out that they won the Great American Country's "Ultimate Country Wedding" competition.
"It's the perfect thing that could have happened," said Landis, 28.
Stand, also 28, was the first to get the news.
"I thought I was going to pass out. I didn't think we were going to win. To hear that we were actually the winners was really great," Stand said.
The official announcement came last night on Great American Country, a country music television station. Stand was notified last week.
In March, the GAC staff picked the Lawrence couple and three others out of 200 applications. For two weeks, online voters could vote daily on the GAC Web site for their favorite couple.
"They (GAC staff) said what they felt pushed us over the top was the media," Stand said, referring to stories about the couple in local news outlets.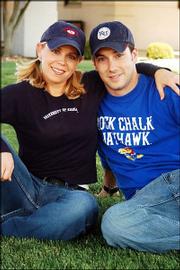 The winnings include an all-expense-paid wedding in Nashville, Tenn. The wedding is complete with invitations, a wedding dress, wedding planner, tuxedo rental and honeymoon. All the details -- including the look of the invitations, the bridal gown and tux -- are to be decided by online voters at www.gactv.com, with results announced on GAC, Sunflower Broadband Channel 78.
"It's been the solution to so many problems with us trying to get married," Landis said.
The two have been engaged for five years; they were saving money to get married. But between school and work they didn't have time to plan. Now they don't have to worry about either time or money.
"I think that's great because I haven't had a chance to look at things for my own wedding. It has been so busy I just need someone else to plan it," Stand said, "I just want to marry my best friend. That will be awesome."
Before the couple found out about the competition, they planned on getting married in July. But the GAC wedding is slated for Labor Day weekend.
"I'll have to wait a couple months longer, but marrying Lynette makes it worth the wait," Landis said.
Copyright 2018 The Lawrence Journal-World. All rights reserved. This material may not be published, broadcast, rewritten or redistributed. We strive to uphold our values for every story published.