Graduates of the Kansas University School of Medicine a century ago didn't expect to live in a mansion or drive the top-of-the-line horse and buggy.
"Some of them would get paid with a dozen eggs and five live chickens," said Nancy Hulston, archivist at the KU Medical Center. "It wasn't a profession you'd expect to get wealthy from."
That -- and many other details about life as a physician -- has changed in the past 100 years. The School of Medicine today celebrates the centennial of the Kansas Board of Regents resolution that created it.
At the time of the medical school's founding, the medical profession wasn't as academic as it is today. Students needed only a high school education and "good moral character" to be admitted.
"Today, students who are admitted meet high academic standards and have real-world experience in a medical setting," said Mark Meyer, associate dean for student affairs. "Only one in seven applicants was accepted to our program this year."
In the early days, before cars, students took trains between Lawrence and Kansas City for their courses.
They may have received some strange looks during their commute, according to the 1905 Jayhawker yearbook.
"Indeed, we were unpopular everywhere, for we left a trail of formalin behind us," the yearbook said. Formalin was a preservative used to preserve bodies in the anatomy lab.
'Impossible to synopsize'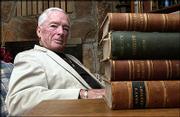 Among those celebrating today will be Robert Hudson, a 79-year-old De Soto resident who has been affiliated with the School of Medicine for more than half its 100 years.
Hudson entered medical school in 1948 as a student and spent his career on the internal medicine faculty, retiring in 1994. He remains a volunteer on the campus.
"It's changed so much; it's almost impossible to synopsize it," he said of the Medical Center.
Hudson said he's noticed a major shift in the relationship between students and faculty over the years.
"They were practically unapproachable on a personal basis," Hudson said of faculty when he attended KU. "You could not smoke anywhere around, nor could you use the elevators if you were a student at that time. It's not the sort of personal relationship that develops now. It was a distant relationship."
As the medical school enters its second century, Hudson said he's grateful for the technology that's developed for physicians. But he's concerned that the new gadgetry could hurt personal relationships between doctors and patients.
"It certainly does far more than anything we could do when I was being educated, as far as MRI and so forth," he said. "They can learn more in one radio thing than we could ever devise with the tools I had back then, and more quickly. But it's reduced the need to take long histories and get to know the patients well."
The Kansas University School of Medicine has scheduled several events in connection with its centennial celebration this year.The events kick off today with an opening reception for a centennial exhibit organized by the Clendening Library at the Medical Center. The exhibit, 10 large panels telling the history of the medical school, will be on the first floor of the Robinson Building and will continue through the end of the year. The reception is from 3:30 p.m. to 4:30 p.m.The school also has scheduled "A Rhapsody in Crimson and Blue," a centennial celebration and awards gala Sept. 17 at the Hyatt Regency Crown Center Hotel in Kansas City, Mo.For more on the events, visit www.kumc.edu/centennial.
Copyright 2018 The Lawrence Journal-World. All rights reserved. This material may not be published, broadcast, rewritten or redistributed. We strive to uphold our values for every story published.