Washington — Of all the milestones associated with the Washington Nationals' debut season -- first hit, first run, first win, first loss, etc. -- here's one that's yet to be put in the books: first three-game losing streak.
And what might be most impressive is that both times the Nationals did drop two in a row, they put a quick end to it by beating a team that tormented the Montreal Expos for so many years, the Atlanta Braves.
This time, Zach Day allowed just three hits over seven innings, Jose Vidro delivered a two-run homer, and Washington edged Atlanta, 2-0, Wednesday night, the Braves' sixth loss in eight games.
The Expos went 5-14 against the Braves last season and finished ahead in just one of the teams' past 10 season series. The Nationals are 3-1 against the Braves, with Wednesday's victory and a 4-3 win April 12 at Atlanta stopping two-game slides.
"We're certainly overdue to play good baseball against them," Washington manager Frank Robinson said. "Normally, this is the type of ballgame they would beat us in last year and the year before. They would come back in the seventh, eight and ninth inning. Tonight we closed them down."
Cubs 3, Cardinals 1
St. Louis -- Carlos Zambrano came within one out of a complete game and drove in a run with his first career triple, helping Chicago overcome an injury to Nomar Garciaparra in a victory that ended St. Louis' five-game winning streak. Garciaparra injured his left groin leaving the batter's box on a double-play grounder in the third. The team said Garciaparra likely would have an MRI exam today.
Diamondbacks 2, Giants 1
San Francisco -- Javier Vazquez pitched seven scoreless innings, and Arizona handed Noah Lowry the first loss of his major-league career.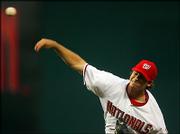 Dodgers 3, Padres 1, (10)
San Diego -- Jose Valentin hit a two-run triple with two outs in the 10th inning to give Los Angeles its eighth straight victory.
Rockies 7, Phillies 4
Philadelphia -- Rookie Clint Barmes had four hits and made a diving catch to preserve the lead as Colorado beat Philadelphia to stop a 10-game road losing streak that dated to last season. Barmes, who drove in three runs, is 15-for-23 (.652) with eight RBIs in his last six games.
Astros 6, Brewers 1
Houston -- Adam Everett and Craig Biggio led off the first inning with back-to-back homers, and Roy Oswalt outpitched Ben Sheets to lead Houston.
Marlins 9, Mets 2
Miami -- Juan Encarnacion homered and drove in four runs to help Florida win its rematch with Aaron Heilman by beating New York. Heilman (1-2), who pitched an improbable one-hit shutout against Florida on Friday, gave up 11 hits and left after four innings trailing 7-0.
Reds 6, Pirates 4
Cincinnati -- Wily Mo Pena hit two homers, including a tiebreaking two-run shot in the seventh inning that sent Cincinnati to a victory over Pittsburgh.
Copyright 2018 The Associated Press. All rights reserved. This material may not be published, broadcast, rewritten or redistributed. We strive to uphold our values for every story published.