New York — More than 55,000 fans filed into Shea Stadium to see Pedro Martinez pitch another gem.
They went home happy thanks to Ramon Castro.
The backup catcher singled home the winning run with two outs in the ninth inning, and the New York Mets beat the Florida Marlins, 4-3, Saturday for their sixth straight victory.
"They never got away from us and we never quit," Martinez said. "I'm very glad I signed to pitch here and I'm able to give the fans what they expected."
Martinez struck out nine in a stellar home debut for New York -- but the Mets' new ace was outpitched by their old one, Al Leiter.
The left-hander allowed only three hits in seven innings and left with a 2-1 lead before New York rallied against reliever Todd Jones in the eighth.
Carlos Beltran tied it with a two-out single, and Mike Piazza followed with a go-ahead double to give the Mets a 3-2 edge, overcoming Martinez's career-high three wild pitches.
"I prefer scoring early in the ballgame so we don't have to go through this situation every day," Beltran said.
Braden Looper (1-1) couldn't hold the lead. He gave up three hits in the ninth, including Juan Encarnacion's tying double with two outs, for his second blown save in three chances this year. But Victor Diaz, who also singled to start New York's eighth-inning rally, doubled off Guillermo Mota (0-1) with two outs in the ninth and scored when Castro lined a 1-1 pitch to right-center for the game-winning hit.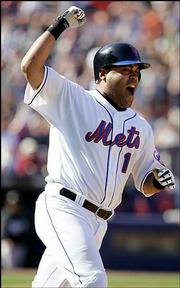 "That's what we want to do every day, keep fighting back. That's what good teams do," Mets manager Willie Randolph said.
Rockies 5, Giants 4
Denver -- Joe Kennedy outpitched Jason Schmidt and had two hits to help Colorado end an eight-game losing streak. Colorado finally received good pitching and clutch hitting on the same night, using aggressive base-running and Kennedy's strongest outing of the season to end two weeks of frustration.
Nationals 9, Diamondbacks 3
Washington -- Vinny Castilla has yet to make an out at RFK Stadium, going 3-for-3 and driving in four runs for the second straight game to help Washington beat Arizona.
John Patterson (1-1) threw seven shutout innings, and Washington broke open a tight game by sending 11 men to the plate and scoring seven runs in the seventh.
Cubs 4, Pirates 3
Pittsburgh -- Neifi Perez doubled in the go-ahead run in the seventh, and Aramis Ramirez hit a three-run homer to carry Chicago past Pittsburgh, only the slow-starting Cubs' second victory in five games. Perez went 2-for-4, giving him nine hits in four games.
Phillies 2, Braves 1
Philadelphia -- Jon Lieber outdueled John Smoltz, and Chase Utley had a tiebreaking RBI single and game-saving catch, leading Philadelphia over Atlanta.
Lieber (3-0) allowed one run and seven hits in eight innings to win his third straight start since joining the Phillies.
Reds 3, Astros 2
Cincinnati -- Left-hander Eric Milton finally pitched like a pricey and prized acquisition, leading Cincinnati to a victory that ended its 12-game losing streak against Houston. Milton (2-1) gave up three hits in seven innings.
Dodgers 8, Padres 3
Los Angeles -- Scott Erickson pitched six sharp innings for his first NL victory, Ricky Ledee homered, and Jason Phillips had a pair of RBI singles in Los Angeles' victory over San Diego.
Cardinals 5, Brewers 3
Milwaukee -- Scott Rolen snapped out of his early season slump with a two-run homer and two singles, leading St. Louis to a victory over Milwaukee.
Copyright 2018 The Associated Press. All rights reserved. This material may not be published, broadcast, rewritten or redistributed. We strive to uphold our values for every story published.