Baylor pitcher Mark McCormick was as good as advertised Saturday night.
Scratch that. He was even better.
McCormick and the 12th-ranked Bears silenced the Kansas University baseball team for the second straight evening, 13-2, at Hoglund Ballpark.
McCormick (5-2) started his six-inning outing by giving the Jayhawks (24-17 overall, 3-8 Big 12 Conference) a sampling of his trademarked heat, and then his nasty breaking stuff did the rest of the talking.
The Jayhawks, looking to spark an offense that produced just four hits in Friday's loss, managed just five hits in round two.
"He was really good, no doubt about that," KU coach Ritch Price said of McCormick. "Obviously, they took us apart in every phase of the game tonight. They might be the best team we've played this year, so far."
Just as was the case in the series opener, Baylor's offense provided its stellar pitching staff with an early cushion.
Leadoff hitter Michael Griffin was largely responsible for setting the table, hitting safely in his first three at-bats.
Friday, Baylor (24-13, 11-3) muscled the ball deep into the Hoglund Ballpark outfield. Saturday, the Bears did it with small-ball.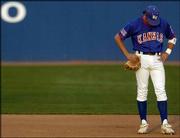 The Bears had their key offensive inning in the third, scoring three runs off just two hits. Griffin, who had the inning's first hit, scored on a sacrifice bunt by Kyle Reynolds, and Baylor's Reid Brees capped the inning with a sacrifice fly.
KU had a chance to respond in the bottom of the fourth, cutting the deficit to 5-2, but junior outfielder Matt Baty flew out to right with the bases loaded to end the inning.
After that inning, when Kansas started to catch up with McCormick's fastball that was being clocked around 97 mph, McCormick reasserted his dominance by turning to his breaking pitches.
He struck out five batters in his final two innings.
"They came out expecting the fastball, and they were hitting the fastball, and I was overusing it I guess," McCormick said. "I utilized my curve later in the game to keep them off-balance, got a few strikeouts when I needed it.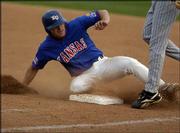 "It's one of my better starts. I got hit hard early, and maybe had I mixed it up early, I would have had a better start, but it's up there for this season."
After McCormick left, the Baylor bullpen never eased up.
Jeff Mandel and Tyler Bullock combined to allow just one hit and two walks in the final three innings.
The task of finding legitimate offense gets no easier today in the series finale.
KU is throwing its ace, junior Kodiak Quick, but the Jayhawks will have to face yet another standout -- left-hander Cory VanAllen. Entering the weekend, VanAllen led Baylor in wins and was second in earned-run average.
But bouncing back from a blowout loss may be easier for KU than coming back from a close game like Friday's.
"I actually think that one's easy to shake off, when you get your butt kicked like that," Price said. "They beat our pitching up, made big pitches when we were in the ballgame, made some big plays defensively, and they're playing as good as anyone we can play at this point in time."
Copyright 2018 The Lawrence Journal-World. All rights reserved. This material may not be published, broadcast, rewritten or redistributed. We strive to uphold our values for every story published.