Baylor's Stephanie Pomes made a pretty good ringleader Saturday in what was a circus of a softball contest between Baylor and Kansas University at Arrocha Ballpark.
The Bears' third baseman was in on about all of the day's biggest, if not strangest, highlights -- including the game-winning home run in the top of the eighth to help No. 8 Baylor escape with an 8-7 victory.
"It was an interesting game," said KU coach Tracy Bunge, whose squad had its three-game win streak snapped and slipped to 19-17 overall, 2-6 in the Big 12 Conference. "In a lot of ways, it was a great college softball game, because there was a lot of offense. It's really a shame somebody had to lose this one.
"But Baylor's got a good offensive ball club. They put the ball in play. They got some key hits."
While none was as timely as Pomes' second solo shot of the afternoon with two outs in the extra inning, the Bears (38-7, 6-4) had 16 hits, a season-high by a KU opponent.
The two squads combined for 24 hits and used six pitchers -- three alone by Baylor in the fourth -- in the nearly three-hour contest.
"It was a crazy game just considering how many weird calls their were overall, but it's not the craziest game I've ever been in," said KU right fielder Heather Stanley, who answered Pomes' first homer in the third with a three-run bomb to left in the bottom of the inning.
"I didn't feel good today, so I told myself I had to make myself feel better and come through for the team," continued Stanley, who went 2-for-3 with four RBIs.
The Jayhawks took their first lead in the fourth with three runs on five hits, but that's also when things started to get interesting.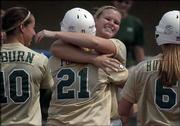 For a moment it appeared Kansas led 7-4 after Kassie Humphreys hit a grounder that Baylor first baseman Tessa Lynam bobbled when she fell on the bag. The miscue temporarily allowed KU's Nicole Washburn to score, but home-plate umpire John Orloski reversed the first-base umpire's call, and the inning ended.
Things took a strange twist again in the fifth.
Kansas shortstop Destiny Frankenstein walked to lead off the inning, then stole second. A wild pitch put the junior on third, then third-base umpire Kevin Wallace called obstruction on Baylor's Pomes for impeding Frankenstein's path.
Since Wallace already had issued a warning to Pomes for a similar infraction earlier, Frankenstein was awarded a base and scored to put KU up 7-5.
While Bunge would make no comment on Wallace's call, it was the fourth time Saturday the umpire made such a warning. For the season, Kansas has had only a couple of warnings for the new point-of-emphasis rule.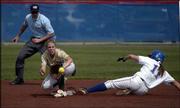 Baylor coach Glenn Moore was none too pleased and nearly got tossed for comments he made after the call.
But after the bizarre sequences in back-to-back innings, the Bears fought their way back on the field, scoring two in the sixth before winning the game when Pomes powered up in the eighth.
If Kansas could have held on, it would have been the Jayhawks' first victory over a top-10 team since April, 2002, when KU defeated fourth-ranked Nebraska.
That thought was not lost on KU players afterward.
"This game is enough motivation," Stanley said. "We all came out and played our hearts out and lost. Tomorrow is going to be our way."
The series will conclude with a single game beginning at 1 p.m. today.
Copyright 2018 The Lawrence Journal-World. All rights reserved. This material may not be published, broadcast, rewritten or redistributed. We strive to uphold our values for every story published.