The Eldridge Hotel is poised to re-enter the Lawrence lodging market, just as the city's tourism market is showing signs of rebounding from a lackluster year.
The Eldridge, 701 Mass., is scheduled to welcome guests, customers and visitors beginning May 11, a little more than four months after closing for a planned $1.5 million makeover.
"The hotel is a good investment for the community and for the owners," said Randy English, recently hired as general manager to turn around a fourth historic hotel. "Like any startup project -- and this basically is a startup project -- it will take time to build up a clientele for the hotel.
"I don't think we'll open, day one, and make a million bucks, but for a long-term investment there is tremendous potential."
Officials with the Lawrence Convention & Visitors Bureau are looking to the Eldridge and other events to help inject some life back into the city's tourism industry.
Last year, visitors spent $41.4 million on hotel rooms, meals, gasoline and other items and services in Lawrence, according to the bureau's annual report. The total was down from $41.7 million in 2003.
Visitors are key to the Lawrence economy because they come to town and spend money without triggering a direct need for new schools or other large public investments, said Judy Billings, senior vice president for the bureau and the Lawrence Chamber of Commerce.
"They come with new money in their pockets," she said. "They leave it and they go."
A number of upcoming sporting events -- collegiate national cycling championships and an LPGA Futures Tour golf tournament -- should help improve the spending numbers, Billings said. And the Eldridge will be there to welcome not only them, but also the growing number of "heritage travelers" who chart their road trips based upon historic events, communities and hotels.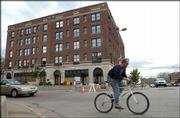 The Eldridge originally was built as the Free State Hotel in 1855 by the New England Emigrant Aid Society, which founded Lawrence. The hotel was destroyed twice by pro-slavery forces; it was rebuilt as the Eldridge Hotel in 1863, and the building stood until it was razed and rebuilt in 1925.
The hotel recently emerged from bankruptcy under new ownership, and has rejoined the National Trust for Historic Preservation's Historic Hotels of America, a consortium of 219 historic hotels selected for each property's historic integrity, architectural quality and notable preservation efforts made by owners and managers.
English is working at the Eldridge after having spent six years in upstate New York, where he managed the Hotel Utica -- a 103-year-old, 112-room property that he steered through a $13 million renovation. He previously managed Hotel Madison, a property in Norfolk, Va., during a $14 million makeover, and the Chamberlain Hotel, a 310-room property in Hampton, Va., as it received $8 million worth of work.
English didn't hesitate to take the Eldridge job. His wife is a Kansas University graduate, and they were looking to get back to the Midwest.
"This hotel has been and will continue to be such an important part of the Lawrence community," he said. "It would have been an absolute shame to see something happen and not see it be restored."
Copyright 2018 The Lawrence Journal-World. All rights reserved. This material may not be published, broadcast, rewritten or redistributed. We strive to uphold our values for every story published.