Boston — Bostonians who never thought they'd live to see the Red Sox win it all witnessed another first in the franchise's recently refurbished lore: the New York Yankees applauding as their rivals collected the spoils of their World Series championship.
With gaudy rings and an emotional flag-raising by old-timers who never got a chance to fly their own, the Red Sox celebrated their 2004 title and turned to its defense, beating the Yankees, 8-1, Monday in the Fenway Park opener.
"Now we can put that to bed and get on with 2005," said knuckleballer Tim Wakefield, the longest-tenured player on the team. "It was a great run last year, and it was very exciting to be a part of that. I think once the game started, it's time to move on."
Wakefield (1-0) allowed one unearned run, five hits and two walks while striking out five in seven innings. Doug Mirabelli homered, and the Yankees played compliant guests by watching and clapping during the hourlong ring ceremony and then fumbling away the game.
Mike Mussina (0-1) allowed seven runs -- four earned -- seven hits, three walks and five strikeouts in five innings. Alex Rodriguez, the focus of much Boston ire during the offseason and the fans' taunts during the game, misplayed a grounder for an error that let in three runs as the Red Sox made it 7-1 in the fifth.
The Red Sox took a 2-0 lead on Mirabelli's second-inning homer and made it 4-0 on Kevin Millar's two-run single in the third. After Rodriguez singled, stole second and scored on a throwing error by Boston shortstop Edgar Renteria, Rodriguez gave back three runs with an error in the bottom half.
"It's the home opener. We're playing the Yankees. We've got a ring ceremony. All of a sudden, you look up and (Derek) Jeter's in the batter's box," said Boston manager Terry Francona, who returned after missing four games with a viral infection that was feared to be a heart problem.
"It was going quickly. But Wakefield kind of took care of the rest of that for us. He was fantastic."
Through bench-clearing brawls, home-plate collisions, bullpen crew dustups and fights among fans, the Red Sox and Yankees have developed an animosity that fuels one of the most venomous -- and one of the best -- rivalries in all of sports.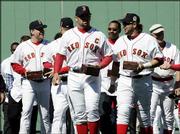 But it had also been laughably one-sided: Since the Red Sox sold Babe Ruth to the Yankees, New York had won 26 World Series, and Boston hadn't won any.
Until last year.
"They certainly deserved everything they got today," Yankees manager Joe Torre said. "They won the championship last year, and even though you envy what's going on, and you're a little jealous, it doesn't mean that you can ignore it.
"I think everybody was curious just to see what the Red Sox would do on the day that they got their World Series rings."
Among the curious were the Boston fans, who waited nine decades to see it. Filling the ballpark hours before the first pitch, they braved a 46-degree temperature and a strong wind kept the new World Series flag flapping stiffly above the Green Monster.
White Sox 2, Indians 1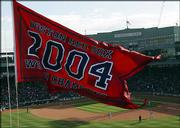 Cleveland -- Freddy Garcia, who went 9-0 in day games last season, pitched eight dominant innings, and Scott Podsednik drove in the go-ahead run in the seventh, spoiling the Indians' home opener. Garcia (1-0) held the Indians to one run and four hits as the White Sox improved to 3-1 against Cleveland this season. The right-hander didn't allow a hit after the third, retiring 16 of the last 17. He walked two and struck out four. Shingo Takatsu struck out Aaron Boone for his third save.
Angels 7, Rangers 6, 10 innings
Arlington, Texas -- Orlando Cabrera hit the first pitch of the 10th inning for a home run for Los Angeles. Cabrera's first homer of the season came off R.A. Dickey (0-1). The Angels tied it in the ninth when Darin Erstad had a leadoff homer off closer Francisco Cordero, who had allowed just one homer in 67 appearances last season.
Blue Jays 10, Athletics 3
Oakland, Calif. -- Frank Catalanotto had a two-run triple and a sacrifice fly, and Eric Hinske had three hits and two RBIs, leading Toronto over Oakland. Gustavo Chacin (2-0) pitched six strong innings and didn't allow a run until Eric Byrnes' solo homer leading off the sixth. The efficient left-hander worked with a lead from the beginning in his fourth career start.
Copyright 2018 The Associated Press. All rights reserved. This material may not be published, broadcast, rewritten or redistributed. We strive to uphold our values for every story published.