Anaheim, Calif. — Vladimir Guerrero and Chone Figgins each had two RBIs, and the Los Angeles Angels scored four unearned runs in an 8-3 victory over the Kansas City Royals on Saturday night.
Bengie Molina homered, and Kevin Gregg (1-0) pitched five innings in a spot start for the injured Kelvim Escobar, allowing three runs and three hits while striking out four and walking four.
Gregg was staked to a 7-1 lead after four innings before giving up a two-run homer to Matt Stairs in the fifth.
Jose Lima (0-2) failed to get through the fourth inning for the second time in two outings since rejoining the Royals as a free agent in December. The right-hander threw 84 pitches in just 32/3 innings, allowing seven runs -- three earned -- and eight hits over 32/3 innings. Last Monday at Chicago, Lima gave up five runs over three innings in his first career opening-day start.
Figgins snapped a 1-all tie in the second inning with a sacrifice fly after a leadoff triple by rookie Maicer Izturis. The Angels increased their lead to 7-1 with five runs in the third, helped by an error by Royals second baseman Ruben Gotay.
After Gotay took a throw from third baseman Tony Graffanino on a potential fielder's choice grounder by Izturis, he failed to make contact with the bag before making a late relay throw to first base.
Figgins and Darin Erstad followed with RBI singles, Guerrero drove in two more runs with a two-out single and Garret Anderson chased Lima with a two-run double over the head of center fielder David DeJesus.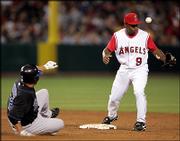 Lima needed 32 pitches to get out of the first inning. He gave up singles to Erstad and Guerrero, then walked Steve Finley and Orlando Cabrera with two out to force in a run. The RBI was the first this season for Cabrera, who signed a 4-year, $32 million contract with the Angels after helping Boston win the World Series.
The Royals tied it in the second when DeJesus struck out on a pitch in the dirt and made it to first as the ball squirted between Bengie Molina's legs. Terence Long scored from third on the play.
Copyright 2018 The Associated Press. All rights reserved. This material may not be published, broadcast, rewritten or redistributed. We strive to uphold our values for every story published.