Anaheim, Calif. — Denny Bautista allowed three hits over eight innings for his first major-league victory, leading the Kansas City Royals over the Los Angeles Angels, 6-2, Friday night.
Mike Sweeney hit a pair of RBI doubles for the Royals, who began a nine-game season series with the defending AL West champions after going 0-7 against them last season and getting outscored, 58-27.
Bautista (1-0) struck out eight, walked none and retired 15 of his last 16 batters in his sixth big-league start, taming an offense that had the highest team batting average in the majors last season at .282.
The 24-year-old right-hander gave up his only run in the fourth on a groundout by Garret Anderson, after Jeff DaVanon doubled and advanced on a wild pitch. No Royals outfielder recorded a putout until Orlando Cabrera flied to center leading off the eighth.
Bautista, who joined the Royals last June in a trade that sent Jason Grimsley to Baltimore, was 0-4 last season with a 6.51 earned-run average.
Paul Byrd (0-1) allowed six runs -- four earned -- and nine hits in his Angels debut. The 10-year veteran right-hander, who had a career-high 17 wins for the Royals in 2002, signed as a free agent in December after going 8-7 with a 3.94 ERA in 19 starts last season with the NL East champion Atlanta Braves. He missed the 2003 season after elbow-ligament replacement surgery.
Kansas City got a pair of unearned runs in the second after second baseman Chone Figgins bobbled Calvin Pickering's routine grounder leading off the inning. Byrd hit Emil Brown with his next pitch, and Terrence Long singled home Pickering one pitch later. Brown scored on Ruben Gotay's sacrifice fly.
Pickering made it 3-0 in the third, driving in David DeJesus with a bloop RBI single over the outstretched glove of shortstop Orlando Cabrera.
Kansas City used the foul lines to perfection to score a pair of five inning runs that increased the margin to 5-1. DeJesus tripled just past first baseman Darin Erstad and scored when Tony Graffanino's squeeze bunt to the right of the mound ended up as a single. Sweeney followed with an RBI double just inside third base.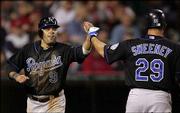 Graffanino and Sweeney opened the seventh with consecutive doubles.
¢
Notes: Plate umpire Doug Eddings failed to call catcher's interference against Kansas City's John Buck in the sixth after Erstad's bat knocked Buck's glove off his hand. ... Former Kansas City C Brent Mayne, who began his 15-year career with the Royals, visited their clubhouse before the game. Mayne and the Los Angeles Dodgers failed to agree on a new contract by Jan. 8.
When: 9:05 tonight.Where: Angel Stadium of Anaheim, Calif.TV: Sunflower Broadband Ch. 6.K.C. record: 2-2.
Copyright 2018 The Associated Press. All rights reserved. This material may not be published, broadcast, rewritten or redistributed. We strive to uphold our values for every story published.