The predictable happened.
First-time candidates John Mitchell and Craig Grant each won seats on the Lawrence school board Tuesday. One-term incumbent Linda Robinson was re-elected.
None of the three was opposed.
Initially, four candidates filed for the three open seats on the board. But on Feb. 15 -- two weeks before the March 1 primary -- David Holroyd announced he was no longer interested in serving, although his name appeared on the general election ballot.
Of the four candidates, Holroyd was the lone opponent to the proposed construction and technology bond issues.
Without Holroyd in the race, the remaining campaigns generated little friction; all three supported the bond issues.
"Compared to the turmoil of two years ago when we were looking at closing (Centennial and East Heights) schools, voters' interests appear to have shifted to city government," said Grant, a retired chief lobbyist for the Kansas National Education Assn. teachers union.
"The perception is that things appear smoother with schools, though I'm sure there are still hard feelings about the closings," he said.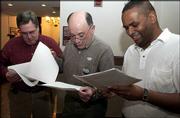 Mitchell, 52, helped lead the unsuccessful bond-issue campaign in 2003. He is chief of compliance and enforcement for the Kansas Department of Health and Environment's Bureau of Waste Management. His wife, Pamela, teaches second grade at Deerfield School.
Robinson, a 54-year-old homemaker, is a former director of the district's Business Education Partnership. Her husband, Scott, a physician, runs the emergency room at Lawrence Memorial Hospital.
Robinson said she wasn't sure whether to congratulate Grant and Mitchell on their victories.
"It seems like all we've been doing for four years is cutting one service, one program after another," she said. "It's really an unpleasant business, which, I think, is another reason there weren't more candidates.
Copyright 2018 The Lawrence Journal-World. All rights reserved. This material may not be published, broadcast, rewritten or redistributed. We strive to uphold our values for every story published.