John Novotny fulfilled the classic baseball dream scenario.
On a two-strike count with two outs and Lawrence High down a run in the eighth inning, he knocked in two runs to give the Lions a 6-5 victory Tuesday over Shawnee Mission East at Ice Field.
The rally was a reversal of fortunes for Novotny and the Lions. LHS coach Brad Stoll said Novotny struggled early this season, along with the rest of the team as the Lions sputtered to a 1-4 start.
But Stoll said the thrilling first home victory should reinvigorate Novotny's game.
"It's good to see a sophomore get a big hit like that," Stoll said. "It ought to lift him up, because he's had a rough start and it's tough to play third base. He's tough and he's young, (but) he's going through some growing pains."
Novotny had every reason to gloat after the game, but humbly deflected praise to the rest of the team.
"I think it's just another (at-bat), it's just another game, and we just came out on top tonight," Novotny said, barely above a whisper. "I just happened to be the man at the plate."
Instead, Will Falk had to do the bragging for him.
"That's amazing, because he fouled off the pitch before that and was really late on it. So I was really surprised when he hit the ball down the third-base line because it really hasn't been that easy for him being a sophomore playing third base," Falk said.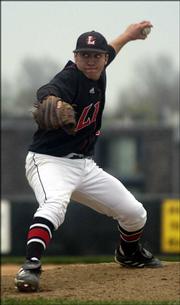 The Lions entered the extra stanza down by one but got the inning going when Lancers pitcher Jordan Bartlett walked leadoff hitter Nick DeBiasse on four pitches.
Bartlett was replaced by Sean Finley, who dropped Falk's bunt. After Tyler Knight struck out and Brett Sims moved the runners to second and third on a fielder's choice, the table was set.
Novotny fell behind in the count early, but with two strikes he laced the ball to left field, scoring pinch runners Travis Hart and Tony Williams for the victory.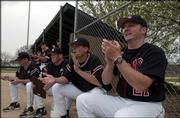 It was the last in a series of comebacks in the game. The Lions got off to a shaky start, falling behind 2-0. But starter Daren Parker settled down and the Lions whittled away at the lead, going up 3-2 in the third inning.
Parker's lost his control in the fourth and was replaced by Matt Wingert, who carried the Lions the rest of the way. Novotny led the Lions with two RBIs, and Michael Sickinger scored two runs.
Lawrence High will travel across town for a 5 p.m. game Thursday at Free State.
Copyright 2018 The Lawrence Journal-World. All rights reserved. This material may not be published, broadcast, rewritten or redistributed. We strive to uphold our values for every story published.