Topeka — Douglas County stood alone Tuesday in rejecting an amendment to the state constitution banning same-sex marriage.
By a statewide margin of about 2-to-1, every other county approved the amendment.
"The people of Kansas have blown us away," said the Rev. Terry Fox, of Wichita, one of the primary supporters of the amendment. "History has been made tonight."
The vote counting continued late Tuesday, but the outcome was clear early in the evening, making Kansas the 18th state since 1998 to add a gay marriage ban to its constitution.
Last November, 11 states approved same-sex marriage bans with approval ranging from 56 percent to 86 percent.
Opponents of the amendment said they were devastated by the defeat.
"God help us," said Steve Brown, of Prairie Village, president of the Democratic Lesbian, Gay, Bi-sexual, Transgender Caucus. "This is a blatant act of discrimination to put citizens -- both homosexual and heterosexual -- in a second-class status."
Opponents said they were confident they could reverse the amendment in court.
"It's only temporary. This amendment is truly unconstitutional, and it won't withstand the light of judicial review," said Bruce Ney, of Lawrence, and chairman of Kansans for Fairness, which worked against the amendment.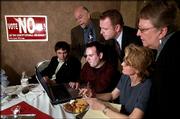 Legal problems
The amendment stated marriage could only be between a man and a woman and that only traditional marriage was entitled to the "rights or incidents of marriage."
The second proviso has thrown legal scholars into a tailspin and several states that have recently adopted similar amendments have seen court battles. In Ohio several men are challenging domestic abuse charges because the abuse happened in nonmarital relationships, and in Michigan the attorney general ruled the amendment prevented cities from extending benefits to domestic partners, gay or heterosexual.
But Fox said legal battles didn't frighten him. "I've got some bad news for them. It's a whole lot harder to overturn a constitutional amendment than it is a law," he said.
Voters speak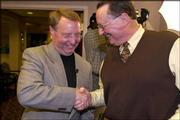 "I don't feel anybody has the right to deny somebody else their civil liberties," said Katherine Sharp, a Kansas University student who was leaving the polls at the South Park Recreation Center.
But other students came out to support the amendment.
"I don't think we should allow it (marriage) for gays and lesbians. I'm a Catholic, and that is what we believe," said Scott Hampel, a KU student voting at the rec center.
More than 130 Kansas ministers signed a statement opposing the amendment, but others supported it.
At the Heritage Baptist Church, the Rev. Scott Hanks was happy when told of the amendment's landslide approval.
"I think it's going to hold marriage to a higher standard for a long time to come," Hanks said. "It's a standard the Bible talks about, that God put in place. It's a shame we have to approve His standard. We should just obey it."
Douglas County alone
Hanks said he wasn't surprised voters in Douglas County, alone in Kansas, defeated the amendment.
"That's just the liberal influence of our area," he said. "I'm glad that's not the influence of our entire state, that's for sure."
The Rev. Leo Barbee, pastor of Lawrence's Victory Bible Church, fought against the city's "Simply Equal" ordinance in 1995 that protected gays and lesbians against discrimination. He said Tuesday he was gladdened by the amendment's passage but disappointed by the vote in Lawrence.
"Lawrence, I think, has shown it's behind the times. I'm sorry for Lawrence," he said.
But Diane Silver, a gay parent from Lawrence, said she was proud so many people voted against the amendment.
Kansans for Fairness said when the campaign started, polls showed only about 18 percent of Kansans would vote against it.
"We are coming out of this much stronger than when we came in," she said.
What's next
Both sides said Tuesday's vote was not the end.
Fox said issues such as abortion, evolution and a proposed federal gay-marriage amendment are prominent on fundamentalist Christians' radar screens.
He said he intended to make sure voters knew which Kansas legislators voted against putting the state marriage ban on the ballot.
"We'll do a real good job of identifying who those people are," he said.
Ney, with Kansans for Fairness, said he believed the religious right's next target would be to try to prohibit gays from adopting children or becoming foster parents.
"This is just going to embolden them. They have felt pretty much in control," he said.
-- Staff writers Joel Mathis and Chad Lawhorn contributed to this report.
Copyright 2018 The Lawrence Journal-World. All rights reserved. This material may not be published, broadcast, rewritten or redistributed. We strive to uphold our values for every story published.