SOUTH BEND, IND. — At Tuesday's McDonald's All-American game media day/luncheon, there were all sorts of activities going on.
Some players sat at tables discussing their futures with reporters. Some indulged in the endless quantity of free cheeseburgers and chicken strips. Others grouped together just to joke around and chat.
Then there was Mario Chalmers, leaning back in his chair, with a slight grin on his face, bobbing his head lightly to the Jay-Z track flowing on his iPod, appearing completely at peace.
It's hard to imagine how one of the quietest and most soft-spoken players there managed to make the most noise once it was time for business in Wednesday's showcase.
But that's Chalmers: He speaks softly and carries a nasty jump shot.
He's confident -- not quite cocky -- but he knows for sure that any trash he talks with either his mouth or his body language can be backed up simply by his actions.
"Mario's deceptive," fellow Kansas University recruit Micah Downs said. "He's kinda laid-back, and then he gets on the court, and he can change on you."
Chalmers began to stand out in the crowd of 24 of the nation's top prep hoopsters Monday night, when he won the three-point competition at the Powerade JamFest.
The Anchorage, Alaska, point guard ousted two North Carolina recruits -- Chicago point guard Bobby Frasor and New York gunner Danny Green -- on his way to the title. Carolina coach Roy Williams recruited Mario pretty hard, but the 6-foot-1 dynamo picked Bill Self and Kansas eventually over Georgia Tech and Arizona.
Chalmers was impressive all week in practices, as well. In Sunday's and Monday's sessions, he showed his ability to play the role of a pure point, mainly dishing the ball around and swarming on defense.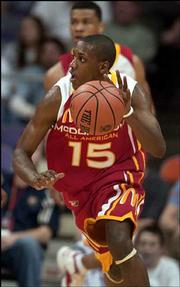 "I think he's the best point guard here, actually," West teammate and Louisville recruit Amir Johnson said. "He looks to pass first instead of shoot it, and I like that in a point guard."
Johnson benefited from Chalmers' point-guard mentality in practices, as many of his highlight-worthy dunks were the results of Super Mario's creation.
'A tremendous athlete'
In Tuesday's final practice, Chalmers opened up a little more offensively and carried over the momentum from his three-point display the night before.
"He's a tremendous athlete, he's very fast, and he can shoot the ball -- we found that out last night," soon-to-be Oklahoma State point guard Byron Eaton said. "We both go at each other very hard, because we're going to be challenging each other next year."
Eaton and Chalmers manning up against each other was one of the most enjoyable sights of the week, as the two talked a little trash back and forth, but had some fun with it.
"Yeah, me and Byron have been going after it in practice because we know that's how it's going to be next year," Chalmers said. "But off the court, we're good buddies."
The finishing touch on Chalmers' week was a 4 1/2-minute stretch in Wednesday's game.
In that span, he put on a show, scoring 16 of his team-high 20 points, displaying everything from his ability to shoot from three, defend and finish on a fast break with no fear.
Frequent flier
Chalmers was cutting it close by playing in the McDonald's game.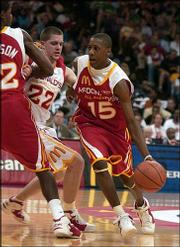 He had to fly back to Anchorage on Thursday morning to get home in time for his state Class 4A quarterfinal game against Wassila. Chalmers didn't get there until near the end of the first quarter, and in a jet-lagged 14-point performance, his Bartlett squad fell, 65-59.
But Chalmers' South Bend showing was an assurance that he gives the Jayhawks something they haven't had in a while -- a point guard who can keep defenses honest with his abilities to score at will and be a dangerous passer as well.
Plus, he also sets the stage to combine with Russell Robinson for a two-headed point-guard backcourt similar to that of Illinois', with Deron Williams and Dee Brown, who also were Self recruits.
And Chalmers, who very well could be starting next season, already has received words of encouragement from departing senior Aaron Miles, who started all but one game at point as a KU freshman.
"I talked to him a lot," Chalmers said. "He told me just to go in there, play my game and don't get nervous at all."
That should be pretty easy, since Chalmers pretty much never looks nervous anyway.
The only thing that may have to change for Chalmers when he gets to Lawrence is his jersey number. The only numbers he has worn his whole life are 15 -- his mother's number -- and 21, because, well, he said it was just "something different."
Prying those away from upperclassmen J.R. Giddens and Nick Bahe, respectively, might not happen.
"I'm going to have to talk to J.R. about that," Chalmers said with a smile. "But it looks like I'm going to have to change my number."
Copyright 2018 The Lawrence Journal-World. All rights reserved. This material may not be published, broadcast, rewritten or redistributed. We strive to uphold our values for every story published.