Services for Rachel E. Blurton Marion, 66, Lawrence, will be at 11 a.m. Wednesday at Warren-McElwain Mortuary. Burial will follow in Oak Hill Cemetery.
Ms. Marion died Wednesday, March 30, 2005, at Select Specialty Hospital in Overland Park.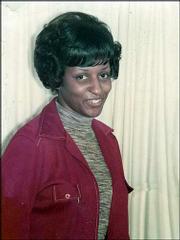 She was born July 12, 1938, in Chetopa, the daughter of Edward W. and Darlene Dailey Blurton.
Ms. Marion retired in 1989 from the Flexel Plant in Topeka. She also worked at Sunflower Ammunition Plant until it closed, and in Ellsworth Hall at Kansas University. She was a member of Praise Temple C.O.G.I.C. in Lawrence. She was awarded the Wallace Galluzzi Volunteer Award in 1992 for her work with Penn House and other organizations.
Survivors include three sisters, Dolly Reed, Lawrence, Aldra Blurton, Kansas City, Kan.; and Gayla Horry, Meridianville, Ala.
The family will receive friends from 9:30 a.m. to 11 a.m. Wednesday at the mortuary before the services.
The family suggests memorials to the American Diabetes Assn., sent in care of the mortuary.
E-mail condolences may be sent to info@warrenmcelwain.com, subject: Marion.
Copyright 2017 The Lawrence Journal-World. All rights reserved. This material may not be published, broadcast, rewritten or redistributed. We strive to uphold our values for every story published.