New York — The NFL injury epidemic didn't pause this weekend, with Rich Gannon breaking a vertebra in his neck that will sideline him for eight weeks, and Charlie Garner and Rex Grossman suffering season-ending injuries.
Also gone for the year are Cleveland linebacker Ben Taylor, Cincinnati linebacker Nate Webster and Philadelphia fullback Jon Ritchie.
Gannon had an MRI on Monday morning and was taken for further tests. Oakland Raiders coach Norv Turner didn't believe Gannon was at risk for paralysis, and said the quarterback was walking around the team's training facility before receiving the news about his neck.
Turner said Gannon will wear a hard neck brace for the next six weeks.
"He will be out an extended period," Turner said. "It's disappointing. ... It makes you sick to your stomach when any player puts as much into it as Rich has."
In the same game, the Bucs' Garner, a former Raider, tore the right patella tendon in his right knee. The 11th-year running back was carted off the field during the second quarter.
Garner, 32, who signed with the Bucs after having offseason surgery on his left knee, slipped as he made a cut and appeared to twist his right leg. A teammate and a Raider also tripped over him.
Michael Pittman, who sat out Tampa Bay's first three games after being suspended by the NFL for violating the league's personal conduct policy, will replace Garner.
Bears
Grossman ruptured a ligament in his right knee. He was injured in Sunday's 27-22 loss to Minnesota when he scored on a six-yard scramble at the two-minute warning. He left the stadium wearing a brace and using a crutch. An MRI confirmed the tear of anterior cruciate ligament.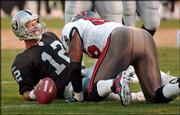 Grossman is expected to undergo surgery in a couple of weeks and will face up to 10 months of rehabilitation.
"In a split-second, I knew I was out for the year," Grossman said Monday. "It's devastating."
Backup Jonathan Quinn, who signed with the Bears in March, will become the starter. Chad Hutchinson was signed as a roster replacement for Grossman.
Browns
Taylor tore a tendon in his chest during the first quarter of a 27-10 loss to the Giants.
Browns coach Butch Davis said the three-year veteran will undergo surgery today to have the tendon reattached to his pectoral muscle and will need four to six months to recover.
Taylor, the team's starting strong side linebacker, is the Browns' eighth starter injured this season and the second lost for the season. Defensive end Courtney Brown tore a ligament in his foot and will need six months to recuperate.
Bengals
Webster had surgery Monday to repair the patella tendon in his right knee, torn during the closing minutes of a 23-9 loss to Baltimore on Sunday. Webster's loss is a major setback to a defense that's been run over.
Titans
Quarterback Steve McNair was to stay in the hospital Monday night with a bruised sternum. X-rays and a CT scan showed no serious injuries, and McNair will be released from the hospital today.
After losing 15-12 to Jacksonville on Sunday, McNair spent the night in the hospital after he was unable to take deep breaths without pain.
Giants
Running back Ron Dayne was scheduled to have an MRI on his left calf to determine what caused it to swell just hours before Sunday's game with Cleveland.
Copyright 2018 The Associated Press. All rights reserved. This material may not be published, broadcast, rewritten or redistributed. We strive to uphold our values for every story published.