Lawrence-area farmers are up to their ears in corn as they reap one of the best harvests in recent memory.
"It's been an ideal year," said Ralph Leary, 66, who waited about a half-hour Monday to drop off a load of corn to be stored at the North Lawrence Co-Op Elevator, 325 Locust St. "It's a lot nicer when you've got a lot of bushels to haul to the elevator compared to very few. It makes you sleep a little better at night."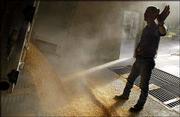 The reason for the bounty is simple.
"It's a four-letter word: r-a-i-n," said Eldon Thiessen, director of Kansas Agricultural Statistics Service. "That's the whole story."
The harvest is at its peak this week, with about one-third of the corn in northeast Kansas already harvested and 93 percent mature, according to the statistics service. Most of the corn grown in this area is used to feed livestock or processed for byproducts such as oil or ethanol.
Statewide, 70 percent of corn was rated in good or excellent condition, compared with just 21 percent last year. The average crop yield in northeast Kansas counties was forecast earlier in the month to be 130 bushels per acre, compared with 70 last year, according to the statistics service.
In Douglas County, averages were running as high as 160 bushels per acre, more than double last year's average of 79 bushels. The five-year county average yield is 92 bushels per acre.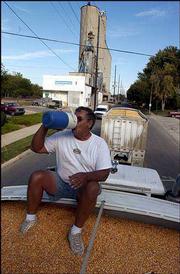 "The corn's standing good. It's shucking good. The combines aren't having problems," said Chris Hetherington, Lawrence manager for the Ottawa Cooperative Assn., which runs the grain elevators in North Lawrence, at Midland Junction and near 19th Street and Haskell Avenue. "It's filling these elevators up very quickly."
Hetherington said most farmers were opting to store their corn at the elevator, keep ownership of it and wait for the price to go up instead of selling it on the spot.
Corn and soybeans are the biggest cash crops for Douglas County farmers, who typically plant about 45,000 acres of soybeans and 25,000 acres of corn. Surrounding counties have similar crop pictures.
Leary, who farms the corn with his brother on 350 acres south of Lawrence, estimated they had about three more days of work until they were done with corn. He estimated his own yield near 160 bushels per acre.
He said it was their best corn crop since the mid-1990s.
"I don't think I'll take a vacation, but it will pay off debts," he said.
This year's corn harvest is expected to be well above average, with an estimated yield of 130 bushels per acre in northeast Kansas, compared with 70 bushels per acre last year.Here are the five-year annual averages of total acres planted with corn and yield per acre for area counties:¢ Douglas County: 26,040 acres, 93 bushels per acre¢ Franklin County: 25,420 acres, 74 bushels per acre¢ Jefferson County: 35,160 acres, 89 bushels per acre.-- Source: Kansas Agricultural Statistics Service
Copyright 2018 The Lawrence Journal-World. All rights reserved. This material may not be published, broadcast, rewritten or redistributed. We strive to uphold our values for every story published.