On paper, Scott Webb was just an average field-goal kicker when he was a senior at Tulsa (Okla.) Union High.
Paper, however, can be deceptive.
"We took some shots at some 50-yard kicks with him," said Bill Blankenship, now in his 13th year as head coach at Tulsa Union. "We really felt if we had the wind and were about 45 yards out we'd take a shot."
Thus Webb made only half of his 22 three-point attempts, with a handful or so of the misfires from long range. His longest successful attempt was a 39-yarder, but more important was Webb's success on 74 of 76 extra-point attempts in the Redskins' 14 games.
Webb's accuracy impressed Kansas University coach Mark Mangino enough to offer a scholarship.
"That's a little unusual in my experience," Blankenship said. "I think only one other school offered him a scholarship, but a lot of them wanted him to walk on. That's how a lot of schools do
it -- bring in a lot of walk-ons and then give a scholarship to the best one."
Mangino knew Webb didn't have major-college leg strength, but he offered the grant anyway on the assumption a year in the weight room would add five yards to his range. That's the primary reason he didn't use Webb late last season when Beck was struggling.
At the start of this season, Webb had made obvious strides but still was a little short on his deep attempts. So Mangino made the 5-foot-11, 180-pound Webb the Jayhawks' extra-point and short field-goal kicker after Beck was inconsistent in the season opener. Then Mangino tapped Webb for all the place-kicking duties earlier this week after Beck's woes continued in a 20-17 loss at Northwestern. Now, Beck's lone duty will come on kickoffs.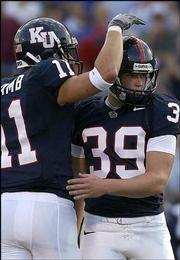 Does the latest promotion mean Webb finally is ready for prime time?
Only time will tell, but Mangino made it clear he was willing to sacrifice quantity for quality.
"He doesn't have the kind of range that Johnny has," Mangino said of Webb. "That's an issue, but we'll live with that."
Webb, Mangino believes, can only become stronger and stronger.
"He's not a weakling, but he's a guy that when you get past the 40-yard line, the length of his kicks is somewhat of an issue," the KU coach said.
Regardless, Mangino envisions a bright future for the young Oklahoman.
"He has shown signs in practice," the KU coach said, "of being someone special."
¢
Coker questionable: Senior guard Tony Coker -- who missed KU's first two games because of an ankle injury and left last week's game late in the third quarter -- practiced Wednesday, but his status for Saturday was uncertain.
Mangino said the lineman was "so-so" and that he was unlikely to start.
The coach was unsatisfied with his offensive line after the Jayhawks were limited to 47 rushing yards against the Wildcats.
"You can anticipate a tweaking in the offensive line," said Mangino, who didn't divulge specifics of the changes after Wednesday's practice. "It's nothing major."
¢
Nebraska at night: Nebraska University officials announced Wednesday they would offer the Cornhuskers' Oct. 2 football game with Kansas on a televised pay-per-view basis.
Kickoff will be at 6:10 p.m.
The game is being televised on pay-per-view because it was not selected for over-the-air broadcast or cable television coverage.
Under Big 12 Conference TV rules, games not picked up for regular television distribution can be televised live only on pay-per-view.
KU's Oct. 9 home game against Kansas State also could be headed for a night kickoff. Kansas officials have said that unless the game was televised, they likely will push it into the evening to avoid conflicts -- and traffic -- with the 1 p.m. Busch Series race at Kansas Speedway.
¢
Bye bye: Saturday's home game against Texas Tech originally was scheduled for Oct. 16, but the teams agreed to move it up. The change gives KU a bye Oct. 16 between its games against Kansas State (Oct. 9) and Oklahoma (Oct. 23), while Tech will take a break between Nebraska and Texas. The bye week also will coincide with KU's fall break.
Changing the date of the 2:40 p.m. game helped the Jayhawks get on Fox Sports Midwest, because Baylor and Texas are the only other Big 12 Conference teams in action this weekend.
"I think it's good that we keep playing," Mangino said. "We need repetitions to get better. That bye will help us in the middle of the season. We can go back and assess how much we've improved and what we need to get better on."
Copyright 2018 The Lawrence Journal-World. All rights reserved. This material may not be published, broadcast, rewritten or redistributed. We strive to uphold our values for every story published.