Civil War (1861-1865)
Charles Adams, Norman Allen, Jeremiah Allen, Ansel Avery, Theobold Baker, William N. Baldwin, William D. Beam, George M. Black, John C. Blackford, Ferdinand Brachos, Joseph Briscoll, George W. Cardnell, Julius W. Clark, John Clayton, James R. Cloud, John Collins, Charles Colman, Joel Decamp, Darius A. Dennison, Thomas M. Denny, Jesse Dollarhide, Daniel H. Dow, Horace Dyke, Joseph Emerick, William Evans, Newton P. Fairbanks, George Gagawanta, Joseph Gardner, Haskell Gates, Mennassee Glathart, George Godfrey, Charles Gordon, G.L. Graham, Jesse M. Hale, Charles G. Hancock, William Henry, Brice A. Jackson, William H. Johnson, Daniel N. Johnson, Michael Kennedy, Manley Knowlton, John Lanterwasser, Isaac Legger, Lewis T. Litchfield, Marshall B. Lucas, Eberly L. Macy, Michael Madden, James Mahoney, John S. Maxwell, Scott Mayberry, Daniel Merrinan, Brady J. Mitchell, William N. Mitchell, John S. Moore, John T. Moore, James Murphey, Cyrus Mursey, Richard Otterbarn, T.C.F. Papilousky, Robert L. Pieratte, George Potter, Thomas Powill, Caleb S. Pratt, Silas Pratt, Louis B. Rinehart, Neal C. Robinson, John W. Robinson, Wilson Scales, Lucius J. Shaw, William Sowers, Henry W. Selig, Jacob Spencer, Daniel Stark, Peter Stauffer, Joshua Taylor, Francis M. Van Horn, Samuel B. Vansykle, James L. Walker, S.N. Waugh, Sebastian Webber, Frederick Whaley, Calvin White, William Winston, Andrew W. Workman, Polk Yates, Gilmer Young, John R. Zinn and William Zinn.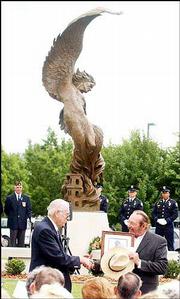 Quantrill's Raid (Aug. 21, 1863)
Recruits 14th Kansas Cavalry: Charles Anderson, Charles R. Allen, James F. Cooper, John R. Green, Walter B.S. Griswald, Aaron Halderman, David Markle, Lewis Cass Markle, Samuel Markle, Asbury (Ashbury) Parker, Isaac J. Parker, Charles F. Riggs, Robert Speer, John Watson, William A. Waugh, James Wilson and Andrew J. Woods.
Citizens of Lawrence: George J. Albach, George Albrecht, Clay Allen, Duncan C. Allison, George Alwes, John Anderson, James Argel, Capt. George W. Bell, George Bent, Samuel Bower, R. Brant, James Brechtlesbauer, Joseph Brechtlesbauer, "One Armed" Brown, Dennis Burnes, Michael Burns, George Burt, Judge Louis Carpenter, Charles Clona, Charles Cloud, G. Coal (Coat or Coates), Dwight L. Coleman, Mayor George Callamore, James Cooper, John A. Cornell, P. Cornell, John Lewis Crane, John Dagle, Ralph C. Dix, Stephen H. Dix, Sylvester Dulinsky, William Dulinsky, "Uncle" Frank Dyre, George Early, Carl Eckman, John Edwards, August Eheles (Ethels), James Eldridge, Frank Ellis, Carl Engler (Enzler), John Engler, Phillip Englesman, John Z. Evans, Lemuel Fillmore, James B. Finley, Joe Finley, Edward P. Fitch, Joseph Frank, "Old Uncle" Frank, John Frawley (Fromley), Levi Gates, Levy Gebtry, George Gerrard, Anthony Giebal (Girbal), A. Giffler (Gufler), John B. Gill, Mr. Goldman, John B. Green, Fortune Gregg, Abner W. Griswald, Dr. Jerome F. Griswold, Watt Griswold, Mr. Hanson, Chester D. Hay, (first name unknown) Hendrix, "Uncle" Charles Henry, Calvin Hoge, Nathan Holmes, Ben Johnson, M. Johnson, unnamed baby of Peter Jones, Samuel Jones, George Kallmer, Patrick Keefe, Frederick Kimball, William Klares, Frederick Klaus, William Klaus Jr., W.M.R. Kleffer (Kliffler), Harwick Lambert, O.O. Lambert, John W. Laurie (Lawrie), William Laurie (Lawrie), Christian Leener (Laner), Christopher Leonard, Henry Limbach, John Little, Otis Longley, Richard R. Loomis, Capt. Joseph G. Lowe, Amos McClellen, Daniel McClelland, Jacob McFadden, Michael Mackin (McClaine), (first name unknown) McFarland, Daniel Markle, Thomas Martha (Murtha), Michael Martin, Robert Martin, Michael Meeky (McKee), R. Meeky (McKee), Dennis Murphy, James Murphy, Thomas Murphy, W. Nathan, Mr. Nichols, George Oehrle, James O'Neil, Anthony Oldham, George Page, Charles Palmer, Daniel W. Palmer, James Perine (Perrine), Jacob Pollock (Pollok), George Pope, David N. Purington, George Range, Samuel Range, Peter Reed Sr., A. Reedmiller, Samuel Jeremiah Reel, Samuel Reynolds, James Roach, George N. Sanger, George H. Sargeant, Charles Schmidt, John Schwab, Charles Smith, Rev. Samuel S. Snyder, John M. Speer Jr., Henry Stewart, Joseph Stone, Capt. Nathan Stone, Benjamin Stonestreet, Louis Swan, Simeon M. Thorp, Josiah C. Trask, E.P. Tritch, David Turk, James E. Watson, John Watson, Addison Waugh, (First name unknown) West, Mr. White, (First name unknown) Williams, William T. Williamson, Louis Wise, James Wood and John K. Zimmerman.
Spanish American War
(1898-1899)
Alfred C. Alford, Joseph A. Wahl and Martin A. Wilcox.
Copyright 2018 The Lawrence Journal-World. All rights reserved. This material may not be published, broadcast, rewritten or redistributed. We strive to uphold our values for every story published.