Kansas University's volleyball team might have enjoyed the food at a tailgating festival following Saturday afternoon's Holiday Inn/Jayhawk Classic, but it was the block party inside the Horejsi Center that proved to be the most fun.
KU again used a relentless defensive attack to overwhelm Denver, 3-0 (30-23, 30-22, 30-13), to claim the Jayhawk Classic crown.
"I think our physical play finally wore them down," said KU coach Ray Bechard, whose squad improved to 7-0. "When the people in front of you are a little more physical, a little more athletic than you are, I think that wears you down.
"I think that's kind of what happened to Denver in Game Three. They fought really hard in the first two games."
Denver made things interesting for about 15 minutes, but then the Jayhawks' defense took over.
Senior middle blocker Ashley Michaels teamed with KU setter Andi Rozum for a block to tie the score at 13, and the Jayhawks never looked back.
Kansas continued a blocking trend Saturday that Bechard said he definitely could get used to seeing this season.
"It's huge for us," Bechard said after his squad tallied 11 blocks Saturday and, at 3.8 blocks per game, is averaging two more blocks per game this season than last.
"You're talking about two automatic points a game. That's huge in rally scoring."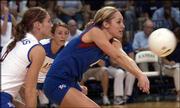 But it's not as if the Jayhawks were lacking offense Saturday.
Kansas -- which played everyone except Jana Correa, who was kept out for "precautionary reasons" -- had an attack percentage of .321, had nine service aces compared to Denver's one, and completely put the Pioneers away in Game Three with eight straight points.
Junior Josi Lima, who was named the Jayhawk Classic MVP, finished with 12 points and again provided awe-inspiring offensive prowess.
"I end up winning the award, but it's really a reflection of the way we played as a team this weekend, so I have to thank my teammates," Lima said.
Or perhaps Bechard's offseason strategy of improving KU's defensive approach up front.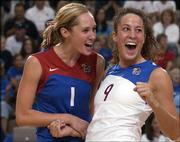 Former Nebraska coach Terry Pettit came in during the preseason and counseled the Jayhawks on how to improve their blocking skills.
"He totally changed our approach," said Michaels, who led the Jayhawks with nine block assists against Denver. "He changed our hand positioning, our arm position, our approach, our attitude. Everything. Plus, we worked on it every day in the preseason, and we're continuing to do it."
Bechard said he hoped the additional practice, plus an added physicality in his team's personnel this year, could pay off with a powerful defensive advantage over opponents.
"We're much more physical than we were last year," said Bechard, who added the preseason newcomer and freshman of the year candidates in 6-foot-3 outside hitter Paula Caten and versatile 6-2 Emily Brown of Baldwin. The duo combined for five block assists against the Pioneers, while Rozum added three.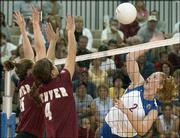 But no one was more punctual than Michaels. She led the team in kills with 13 and singlehandedly had four straight points to get the Jayhawks going in the second game.
While the Jayhawks hope for more celebrating with a showdown on Tuesday at Missouri-Kansas City, Michaels said KU's tourney wins were as anticipated as the bash her teammates were throwing for her 21st birthday Saturday night.
"This was a pretty good present," she said.
Copyright 2018 The Lawrence Journal-World. All rights reserved. This material may not be published, broadcast, rewritten or redistributed. We strive to uphold our values for every story published.