Washington — Congress will not vote on an assault weapons ban due to expire Monday, Republican leaders said Wednesday, rejecting a last-ditch effort by supporters to renew it.
"I think the will of the American people is consistent with letting it expire, so it will expire," Senate Majority Leader Bill Frist, R-Tenn., told reporters.
The 10-year ban, signed by President Clinton in 1994, outlawed 19 types of military-style assault weapons. A clause directed that the ban expire unless Congress specifically reauthorized it.
Some Democrats and several police leaders said President Bush should try to persuade Congress to renew the ban. Bush has said he would sign such a bill if Congress passed it.
"If the president asked me, it'd still be no ... because we don't have the votes to pass an assault weapons ban and it will expire Monday and that's that," House Majority Leader Tom DeLay, R-Texas, told reporters later.
DeLay said the ban was "a feel-good piece of legislation" that does nothing to keep weapons out of the hands of criminals.
Appearing at a news conference, chiefs of police from the District of Columbia, Los Angeles, Atlanta and Seattle predicted an increase in violent gun crimes if the bans does expire.
"Our streets, our homes, our citizens and our police officers will face great danger unless the federal ban on assault weapons is renewed," said Charles H. Ramsey, the police chief in the nation's capital.
Supporters say the law has succeeded despite some serious loopholes. They point to a drop in crime rates and the fewer number of police officers killed by what was, until 1994, the weapon of choice for many drug dealers.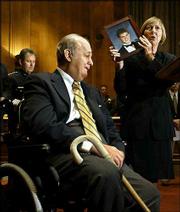 "It has huge public support; why the hell is this looking like it's about to expire?" asked Eric Howard, a spokesman for the Brady Campaign to Prevent Gun Violence, who has spent weeks trying to bring attention to the law's expiration. "That's the question."
The answer, supporters of the ban say, is politics.
Clinton has said that while he views the ban as one of his highest achievements, he believes it cost his party at least 20 seats in the House that year, when many Democrats were attacked as being broadly opposed to gun rights.
Democratic strategists also mention Bush's defeat of Al Gore in 2000, notably in Tennessee, West Virginia and Arkansas, three key battleground states particularly attuned to gun rights that were blanketed by National Rifle Assn. ads and get-out-the-vote efforts that year.
Supporters of the ban say that this time, many candidates in both parties, especially Democrats, seem hesitant to call attention to a touchy issue that might alienate some swing voters in close battleground states.
NRA President Wayne LaPierre said in an interview with The Associated Press that his group was so confident that Congress wouldn't renew the ban that it was not spending any more money on ads this year opposing it.
Copyright 2018 The Lawrence Journal-World. All rights reserved. This material may not be published, broadcast, rewritten or redistributed. We strive to uphold our values for every story published.