Kansas lawmakers should consider new policies to encourage the development of wind energy in the state, the chairman of the Federal Energy Regulatory Commission said Wednesday at a Lawrence conference.
Pat Wood III, leader of the federal agency that oversees the country's network of pipelines and power grids that carry electricity, natural gas and oil, told Kansas officials and the region's electric industry that many states were coming up with ways to spur wind energy development.
"If the state wants to say from an economic development standpoint that it wants more wind energy to create more jobs for less populated areas of the state, there are some good models out there to follow," Wood said. "A lot of them involve a little bit of the heavy hand of the state. As a free market guy, that makes me cringe a bit, but you have to realize that you have to get started."
Wood was the keynote speaker of the Kansas Electric Transmission Summit II at the Dole Institute of Politics. The invitation-only event, organized by state Rep. Tom Sloan, R-Lawrence, was designed to bring together decision makers to discuss ways to increase the infrastructure of electric transmission lines in the state.
The lack of transmission lines has been cited by wind energy developers as one of the major reasons more wind farms haven't been developed in wind-rich western Kansas.
Wood pointed to a policy adopted in Texas while he was a regulator in the state before being appointed FERC chairman in 2001. That policy requires all Texas electric utilities to get at least 3 percent of their electricity from wind sources by 2009.
The policy, Wood said, spurred new development of both wind farms and the new electric transmission lines needed to carry the wind power from west Texas to other parts of the state.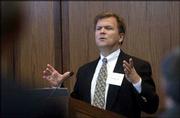 Wind energy developers at the conference said they were looking for leadership from the state.
"Everybody agrees that we should go out and build these lines, but the question is, who is going to pay for it?" said Wayne Walker, a director of project development for Houston-based Zilkha Renewable Energy. "Somebody eventually has to make a policy decision about whether Kansas wants more wind energy."
Walker said there were estimates that western Kansas, the Oklahoma panhandle and the Texas panhandle needed about $400 million in new transmission lines.
Some states, such as Wyoming, have set aside billions in their state budgets to improve transmission systems. Sloan has said he didn't favor that type of approach, but said it was important for the state to create a policy that would spur development. He said the one existing large-scale wind farm in western Kansas, in Gray County, added $1 million a year to the area's economy.
"That money helps keep schools open," Sloan said. "And what I tell people in this part of the state is that it reduces the amount of subsidies that we have to send back there to pay for schools, roads, bridges and everything else."
Wood said he expected the use of electricity created by wind power to grow, in part, because of the rising price of natural gas.
The conference, which also attracted Wood as a keynote speaker last year, touched on other issues besides wind energy. Wood also said increasing the state's transmission capabilities could reduce electricity costs by giving utility companies more options of where they buy their electricity.
He said improvements in the transmission system also could help prevent problems like the ones created by a massive power blackout in August 2003 that left about 50 million people without power in the eastern United States and sucked $10 billion out of the economy.
"Just from that one event, you realize how important these issues are," Wood said.
Copyright 2018 The Lawrence Journal-World. All rights reserved. This material may not be published, broadcast, rewritten or redistributed. We strive to uphold our values for every story published.