Washington — Congress on Wednesday bestowed gold medals to four South Carolinians whose fight to win school busing for black students in the 1950s paved the way for the desegregation of the nation's schools.
The Rev. Joseph A. DeLaine, Harry and Eliza Briggs, and Levi Pearson were posthumously honored with the Congressional Gold Medal in a ceremony in the Capitol rotunda.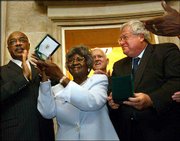 Accepting the medals for their relatives were Nathaniel Briggs, son of Harry and Eliza; Joseph Armstrong DeLaine Jr.; and Viola and Ferdinand Pearson, the widow and son of Levi Pearson.
It was in 1949 when the elder DeLaine, a school principal as well as a minister, recruited black parents in Summerton, S.C., to sign a petition to the school board to provide a bus for their children. While white students in the area had school buses, black students had to walk up to 10 miles a day to attend their segregated school.
Harry Briggs, a gas station attendant, and his wife, Eliza, a hotel maid, were among the parents who signed the petition. Levi Pearson, a black farmer, filed a lawsuit against the Clarendon County, S.C., school district on behalf of his three children.
Pearson's lawsuit was dismissed on a technicality; the Briggs pushed ahead with their own. Briggs v. Elliott, argued by Thurgood Marshall, became the first of five cases that was rolled into the landmark 1954 case, Brown v. the Board of Education, in which the Supreme Court declared school segregation unconstitutional.
They were "ordinary people who had done such an extraordinary thing," said Rep. James Clyburn, D-S.C. Sen. Ernest Hollings, D-S.C., called them "valiant Americans who changed history."
"We come to pay you homage -- so many stars have risen because of your courage," said Rep. Elijah Cummings, D-Md., chairman of the Congressional Black Caucus.
Added House Speaker Dennis Hastert, R-Ill., "Words can't express our gratitude," for their sacrifice.
The medal was first awarded in 1776 to George Washington and has honored more than 250 people, including Thomas Edison, Irving Berlin, Bob Hope, Rosa Parks, Mother Teresa and Pope John Paul II.
Copyright 2017 The Associated Press. All rights reserved. This material may not be published, broadcast, rewritten or redistributed. We strive to uphold our values for every story published.