The Lawrence branch of the NAACP is making a comeback.
A year ago the local branch was on the verge of dissolution because of lack of membership and participation. The few leaders who still were on at the ineffective organization called a community meeting to gauge whether there was enough interest to keep it going.
At least 50 people showed up, and the branch has been on the mend since.
"That was a major wake-up call," said Janis Grubbs Cobbs, who has since served as the branch president.
Today the NAACP branch has about 70 dues-paying members. Monthly meetings once attended by the same three to five people now attract up to 20. That's still lower than Grubbs Cobbs would like to see, but it is a vast improvement, she and others said.
"Those who stayed and made the commitment are working with us," Grubbs Cobbs said.
Since then the NAACP has made its presence in the community known with new events of its own devising, as well as participation in local events such as Juneteenth and the annual summer Black Family Reunion.
For the first time in about five years NAACP leaders brought back the once-popular Soul Food Dinner, held in March at St. Luke A.M.E. Church, 900 N.Y. They found that it was still popular, drawing at least 200 people.
"We had an astounding turnout," said Sonja Johnson, the branch internal affairs officer and chairman of the fund-raising committee. "It is something we definitely want to expand on next year."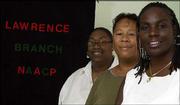 Johnson also noted the branch held a teen night in June at Abe & Jake's Landing, 8 E. Sixth St. Although attendance was only about 30 high school-age teenagers, many of them won prizes that included CD and DVD players, free passes to the Lawrence Aquatic Center and more. She thinks more youths will attend another teen night that might be held this winter.
Registering people to vote and helping voters learn about political candidates has been a major focus for the NAACP this year in Lawrence, Grubbs Cobbs said.
On Sunday, Sept. 26, at Abe & Jake's, the branch will sponsor a "political mixer" to allow candidates to mingle with voters for talks as well as give speeches. There will be a cash bar and light refreshments and no admission charge.
About 40 candidates have said they would attend the mixer, which will start at 2:30 p.m.
On Nov. 2, election day, NAACP members will sponsor a bus to take voters who need transportation to the polls in certain areas of town. Routes will include those voting at locations in north and east Lawrence and on the Kansas University campus.
On Oct. 10 the NAACP will hold a Freedom Fund Banquet at Abe & Jake's. The guest speaker will be James McClinton, the first black mayor of Topeka. Tickets are $30 and can be purchased now by calling Johnson, 979-4692, or Ursula Minor, 749-1712. Money raised will help finance college scholarships to be awarded next spring to graduating high school seniors.
Several other major events are being planned for next year as well, leaders said.
"We have definitely had a big turnaround," Johnson said. "When we decide we need to do something, we just do it. When we need something from other members, even if they don't usually come to the monthly meetings, they are there to support us."
Copyright 2018 The Lawrence Journal-World. All rights reserved. This material may not be published, broadcast, rewritten or redistributed. We strive to uphold our values for every story published.