As the No. 10 runner on Kansas University's men's cross country team last year, Tyler Kelly didn't flash too many feel-good smiles after his races.
The Tulsa, Okla., sophomore was all grins Saturday following his 8-kilometer race at the Bob Timmons Invitational. Kelly blazed the Rim Rock Farm course in 26:12.96 and placed second overall, 14 seconds behind Chris Jones, a KU senior. Jones won the race while competing unattached, so Kelly was KU's top finisher.
Kelly credited better offseason training and continued support from his coaches and teammates for his surging speed and said Saturday's high finish validated his summer workouts.
"This was definitely a lot better feeling than last year," he said. "I put in a lot more miles this summer, and that made quite a bit of difference. Last year coming in, 65 miles per week was my highest. This week I got up into the high 80s. That's been the difference."
Jones praised the underclassman's breakthrough performance, and said Kelly could be a difference-maker in the Jayhawks' quest to return to the NCAA Championships.
"To have a guy like Tyler Kelly come up -- he just trained his butt off all summer and look at him now," Jones said. "He could be our number-one runner at the end of the season."
KU sophomore Benson Chesang, the Jayhawks' lone 2003 NCAA qualifier, did not compete Saturday.
Freshman Colby Wissel and junior Matt French finished close behind Kelly, placing third and fourth overall. Juniors Cameron Schwehr (seventh) and Josh Madathil (ninth) rounded out KU's top five runners. Including Jones, nine of the top 14 runners were Jayhawks.
"You always expect the best," fifth-year KU coach Stanley Redwine said of his team's overall dominance, "and they always expect to do the best, so rather than be overwhelmed about it, I want them to start expecting it because I think this is the future of KU."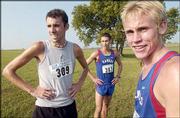 Kansas won the team title, scoring 20 points. Hillsdale was second with 62 points and Kansas State third with 83.
The KU women put together a solid team effort top to bottom as well. Senior Megan Manthe placed third overall in the 5K race behind Oral Roberts' Faithy Kamangila and K-State's Trisha Culbertson. Manthe was joined in the top 10 by sophomore Laura Major (seventh) and freshman Connie Abbott (10th).
Former Ottawa High standout Lisa Morrisey led five other KU medalists Saturday. Morrisey placed 15th in her inaugural collegiate race.
Kansas State won the women's title, scoring 44 points. KU (47) was second and Hillsdale (77) third.
The Jayhawks travel Saturday to the Kansas State Wildcat Invitational in Topeka.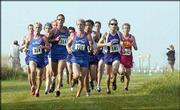 ¢
Ogle 48th: Erica Ogle, a former Baldwin High standout, placed 48th for Pittsburg State in her first college meet. Former Baldwin runner Megan Nelson, a PSU senior, placed 18th.
¢
HINU places eighth: The Haskell Indian Nations University men placed eighth as a team. Junior LeAndrew Martine led the way, placing 65th. The Haskell women also placed eighth. Junior Lisa Summers was HINU's top runner, placing 39th.
Copyright 2018 The Lawrence Journal-World. All rights reserved. This material may not be published, broadcast, rewritten or redistributed. We strive to uphold our values for every story published.