Seven-year-old Jazmen Fowler likes the cheeseburgers, thinks the chicken nuggets are great and sings the praises of the pizza.
"The spaghetti is OK, but they make it all sloppy," Jazmen said. "My mom's is better."
It's mostly kudos now from Jazmen's family for the meals served at Lawrence public schools. But Jazmen's mother, Rhonda Smith, had huge concerns about the meals and snacks when her diabetic daughter started at Kennedy School two years ago.
Jazmen, a second-grader, has type I diabetes and requires a special diet.
"I was scared to death," Smith said. "I knew my daughter had to go to school, but there are a lot of things that have to be done and watched because of her diabetes."
While Jazmen sometimes has had problems with her blood-sugar level at school, Smith said she had no complaints. School officials have worked to make sure Jazmen doesn't eat anything she shouldn't.
"People have been pretty good about helping me," Smith said.
Each year, the district works with the dozens of students who have special dietary needs. In 2002 and 2003, school nurses and food-service employees worked with families of 44 children with special diets or food allergies. District food service director Paula Murrish said the full count of the number this year wouldn't be available for a few weeks.
Through the years, Murrish said, much has been done to make sure children eat well and safely. For example, food-service employees no longer make peanut butter-and-jelly sandwiches. The district, instead, has opted to buy pre-packaged peanut butter-and-jelly sandwiches. A jar of peanut butter isn't even taken into a school building. Murrish said. The district made that change about three years ago.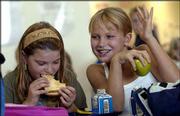 "We don't want to risk a child with a peanut allergy somehow coming in contact with peanuts," she said.
As part of its vigilance against peanut allergies, the district also won't make or serve peanut butter cookies unless people request them for a catered event, Murrish said.
Food-service staffers work with school nurses to find out which students have special diets or food allergies, Murrish said.
Angie Koenig, the nurse at Schwegler and Langston Hughes elementary schools, and LuAnn Wilcox, the nurse at Kennedy and East Heights Early Childhood Family Center, said there still could be problems if parents were not aware a child had a food allergy.
"They may not have been exposed and we're just finding out," Wilcox said. "So, with really young children we keep an eye on them."
If children have frequent stomach aches or rashes, it's suggested families consult a physician.
These are the most common food allergies for children, according to the American School Food Service Assn.:¢ Eggs¢ Peanuts¢ Tree nuts¢ Milk¢ Fish¢ Shellfish¢ Soy¢ Wheat
When a child has known needs and eats school breakfasts or lunches, Koenig said staffers reviewed the food a child selected to assure it could be safely consumed.
Smith gets a lunch menu and marks what Jazmen can and can't eat.
"And if there's a change in the menu, the school is good about letting me know," she said.
Koenig said parents of children with severe food allergies or special diets many times chose to pack lunches or snacks for their children.
It can be difficult for Jazmen during the holidays, Smith said; birthdays, too.
When other children are getting a sugar high off a cupcake, Jazmen must take a pass.
"We try to compensate by sending her to school with other treats," Smith said. "Or some parents may be aware that she's diabetic and make something she can have, too. It's still hard though. She's 7, but she's also pretty well disciplined.
Wilcox and Koenig said most children who know they had special diets or food allergies were aware of their conditions and knew to avoid certain foods.
Copyright 2018 The Lawrence Journal-World. All rights reserved. This material may not be published, broadcast, rewritten or redistributed. We strive to uphold our values for every story published.