City offering signup for annual 'Pooch Plunge'
The Outdoor Aquatic Center may be officially closed after Labor Day, but canines and their owners will get a last chance to hop into the city pool before it is drained for the season.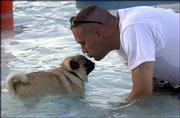 The Second Annual Pooch Plunge is scheduled from 3 p.m. to 8 p.m. Tuesday. Dog owners interested in participating need to register for the event by visiting any parks and recreation facility. Online enrollment is also available at www.lprd.org/aquatics/poochplunge.shtml.
The cost is $4 per dog, but owners will be allowed to jump in for free. Participating pups must have documentation of all current shots. Additionally, owners are expected to accompany and control their pets at all times.
Courts
Developer says city owes $85,000 in attorney fees
Attorneys for owners of west Lawrence land where Wal-Mart was denied permission to build want City Hall to pay $85,000 in legal fees from the dispute.
City officials said the number should be closer to $24,000, with one attorney calling the $85,000 "grossly exaggerated."
Douglas County District Judge Michael Malone earlier ordered the city to pay the fees of 6Wak Land Investments, the owner of the northwest corner of Sixth Street and Wakarusa Drive, after determining City Hall did not follow proper procedures in initially refusing a building permit for the project in spring 2003.
Malone, who took the matter under advisement Friday, gave no timeline for issuing his decision.
Lecompton
East Seventh Street to close for repaving
East Seventh Street in Lecompton is scheduled to be closed intermittently next week for resurfacing work.
Douglas County maintenance crews plan to patch damaged pavement and resurface a 3/4-mile section of the road, known as Scenic River Road. The affected stretch runs from County Road 1029 east to the city limits.
The road is to be closed to through traffic from 8 a.m. to 3 p.m. Tuesday through Friday.
The schedule is designed to allow for school buses to travel on the road before and after school.
Gasoline Prices
Pump Patrol seeks deals
The Journal-World has found gasoline prices as low as $1.75 a gallon at Zarco 66, 900 Iowa, Zarco 66, 1415 W. Sixth, and Citgo, 2005 W. Ninth.
Copyright 2018 The Lawrence Journal-World. All rights reserved. This material may not be published, broadcast, rewritten or redistributed. We strive to uphold our values for every story published.