Kansas City, Mo. — Four rushing touchdowns against the NFL's top run defense would earn most backups a starting job and an exemption from special-teams duty.
Derrick Blaylock's situation is anything but typical, though.
Blaylock scored four of the Kansas City Chiefs' NFL-record eight rushing TDs and followed one of his scores with a tackle on the ensuing kickoff in Sunday's 56-10 victory over Atlanta.
But in his fourth NFL season and with the end of his contract approaching, Blaylock finds himself stuck between the greatest back in franchise history and a disgruntled No. 1 draft pick who coach Dick Vermeil still insists will make an impact in Kansas City.
"I can't think about that right now," said Blaylock, whose 122 yards this year already are a career high. "I'm focused on this season right now."
Blaylock played much of the second half Sunday, finishing with 90 yards on 19 carries, after Priest Holmes -- who also scored four touchdowns and set Blaylock up for a gimme 1-yard TD by just missing a fifth -- sustained a mild ankle sprain.
Holmes did not practice Wednesday but could start Sunday against Indianapolis, and Vermeil said he expected second-year back Larry Johnson to be active for that game.
Johnson, an insurance No. 1 pick in 2003 when Holmes was coming off hip surgery, has been inactive for four of six games this year.
Although Vermeil expected to use him against the Colts, Blaylock's status as Holmes' top backup doesn't seem to be in any immediate danger.
"I get such a thrill out of seeing a guy do what he has done -- coming from where he has come and developing his skills," Vermeil said. "It's a great salute to (running backs coach) James Saxon, who works with him, and the coaches who have confidence in him."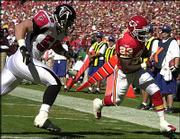 Blaylock came to Kansas City in 2001 as part of a deal that brought Pro Bowl quarterback Trent Green to the Chiefs.
Kansas City had to give the St. Louis Rams their first- and third-round picks in exchange for Green. But they also demanded an extra fifth-round pick from the Rams in return for those concessions, and used that to take Blaylock out of Stephen F. Austin.
He was inactive throughout the 2001 season, gained 72 yards in 12 games in 2003 and saw backup duty at running back in 15 games last year, when he ran for 112 yards on 22 carries.
"I've been patient the whole time I've been here. I knew eventually I'd get a chance to play," Blaylock said. "The main thing is you've got to be patient and wait your turn, and your turn will come.
"I went out there Sunday and got the job done, therefore they have more faith in me."
Whether that faith translates into a free-agent offer remains to be seen.
This week, Vermeil hinted at a larger role for Blaylock -- without saying where he envisioned that happening.
"This opens the eyes of people around (the league) that he may be a starting running back," Vermeil said. "But to me, that's coaching satisfaction."
Copyright 2018 The Associated Press. All rights reserved. This material may not be published, broadcast, rewritten or redistributed. We strive to uphold our values for every story published.