Lavon Brosseau would never have dreamed of donating $3.5 million to Kansas University in 1945, when she was a freshman at Kansas State University.
"We used to joke at K-State that KU drank our muddy water because we sent it down the Kaw River," Brosseau said.
But 59 years later, thanks to a longtime friendship with Jeff Weinberg, a KU administrator, Brosseau is set to donate most of her estate to her alma mater's in-state rival.
University officials said Monday that Brosseau would donate $3.5 million of her $4.5 million estate to KU. Brosseau already has given $500,000 to establish a scholarship fund for education students who want to become teachers; the remainder of the gift to KU will provide unrestricted funds and additional money for the scholarship fund.
The remaining $1 million of Brosseau's estate will go to the KSU Foundation for unrestricted support at KSU, where Brosseau received a degree in English in 1949. She received a master's degree in English literature from Pittsburg State University in 1971.
The 76-year-old Concordia woman is a longtime high school and college English teacher who, with her late husband, Jack, owned farmland and Concordia Mirror and Glass. She now manages four farm properties with more than 1,000 acres.
Jack Brosseau died in 1998.
The decision to donate money to KU started with a friendship with Weinberg, assistant to Chancellor Robert Hemenway. Weinberg earned a grade of C in Lavon Brosseau's sophomore English class at Coffeyville High School and has remained in contact with her throughout his life.
In all, Brosseau taught 29 years at public schools in Atwood, Coffeyville and Concordia. She also taught at Cloud County Community College in Concordia.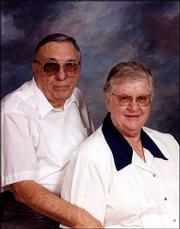 When the Brosseaus began planning their estate in 1994, they called Weinberg. He took Hemenway and Jim Martin, then president of the KU Endowment Association, to visit the Concordia couple.
"I like Bob Hemenway very, very much," Brosseau said. "He seems like such a nice fellow. I just liked those guys. I liked the personnel. I met some of the people from K-State, but I don't have any close ties there anymore."
Brosseau said she and her husband didn't have children, so giving to education seemed a good way to leave a legacy. Even in retirement, she is tutoring a seventh-grader who has been in the foster care system.
"I think teaching is an honorable profession," she said. "If I had to do it over again, I'd do it again."
Weinberg said he was honored his friendship with Brosseau helped influence her estate decisions.
"She's one of the oldest friends I have in the world, and she's doing a wonderful thing for KU," Weinberg said. "She's a dear. I look upon her as a second mother."
Copyright 2018 The Lawrence Journal-World. All rights reserved. This material may not be published, broadcast, rewritten or redistributed. We strive to uphold our values for every story published.