Washington — This year's flu vaccine shortage could cost the nation up to $20 billion in lost productivity -- almost twice as much as in a typical year -- depending on the severity of the outbreak, according to one estimate.
The average worker misses about one to one and a half days a year because of the flu, said David Cutler, a health economist at Harvard. That absenteeism rate could double because of scant flu vaccine supplies this year.
"There's an enormous margin of error: how bad the flu will be," Cutler said of his estimate. "That's where the real uncertainty is."
One vaccine expert said early indications -- and milder flu outbreaks in Australia and New Zealand -- suggested this flu season in America could be mild.
The most recent statistics from the CDC indicate low flu activity in seven states.
"It's not 'We're getting ready to close the school down, there are so many cases,'" Dr. Greg Poland said of the sporadic reports. Poland is director of the Mayo Clinic's vaccine research group and one of the government's vaccine experts.
The dominant virus strain, so far, is contained in this year's vaccine and sickened up to 30 percent of Americans last year, providing some carryover immunity. Poland cautioned that the nation is just beginning the flu season, which most often peaks in January or later.
Federal authorities learned in early October that Chiron Corp. would be unable to supply 46 million to 48 million flu vaccine doses, due to British regulatory action. The FDA, which sent inspectors in early October, agreed Chiron's flu vaccine was not safe to use.
The Centers for Disease Control and Prevention is working with Aventis Pasteur to ensure the next wave of flu vaccine -- 24 million shots -- reaches those at the highest risk.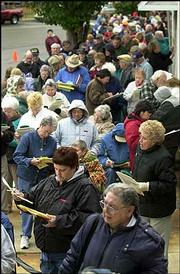 The number of high-risk individuals seeking shots exceeds the 58 million flu doses Aventis expects to provide this year. It's unclear how many healthy Americans will receive flu shots.
Employers typically purchase 10 million to 20 million flu shots to sponsor flu clinics at work. Sixty percent of companies responding to a Society for Human Resource Management survey in June said they would offer flu clinics this year. Many of those workplace flu clinics were shelved to funnel vaccine to high-risk individuals, including the very young, the very old and those with chronic medical conditions.
This year's flu vaccine shortage could cause deaths to spike by 25 percent, said Dr. John Treanor, an infectious disease expert at the University of Rochester Medical Center. In a typical year, 36,000 Americans die from the flu. That mortality figure rises to 51,000 when flu-related complications, like heart attacks and strokes, are included.
Health and Human Services Secretary Tommy G. Thompson on Tuesday again urged seniors to get vaccinated to protect against pneumonia, another flu complication.
Merck & Co., the sole supplier of that vaccine, on Thursday said it would make an additional 11 million doses of Pneumovax 23. That raises this year's production to 17 million doses. In a typical year, the company sells 6 million to 7 million doses of the pneumococcal vaccine.
Vaccinating healthy Americans against the flu, some studies indicate, is cost-effective, saving at least $13.66 per person.
The Lawrence-Douglas County Health Department flu clinic will be from 10 a.m. to 2 p.m. Saturday at Free State High School, 4700 Overland Drive. The cost will be $12 for children 3 and under and $17 for all others. People should have insurance cards ready for billing purposes.The clinic is for people in high-priority groups. That includes:¢ All children aged 6-23 months.¢ Adults 65 and older.¢ People 2-64 with underlying chronic medical conditions.¢ All women who will be pregnant during influenza season.¢ Residents of nursing homes and long-term care facilities.¢ Children 6 months to 18 years of age on chronic aspirin therapy.¢ Health care workers with direct patient care.¢ Out-of-home caregivers and household contacts of children 6 months and younger.
Copyright 2018 The Associated Press. All rights reserved. This material may not be published, broadcast, rewritten or redistributed. We strive to uphold our values for every story published.