DETROIT — The hum from machinery tucked under the seats at Joe Louis Arena was the only sound heard.
The ice surface was empty -- and so were the stands. Welcome to the NHL lockout.
The Detroit Red Wings originally were scheduled to play Carolina tonight in their home opener -- always a festive event in Hockeytown -- but the lockout has at the very least put that game on hold.
The NHL told its 30 teams Tuesday to book events to fill their arenas through early December because it doesn't look like games will be played any time soon.
"We're just trying to create more flexibility for scheduling options," NHL executive vice president Bill Daly said. "Two things have to happen that aren't. We have to be negotiating, and we have to be drafting a new deal. Those two elements take time, and they're not going to happen overnight.
"It's frustrating. The union has not chosen to get serious about negotiations."
NHLPA senior director Ted Saskin fired back.
"It's very clear that the league and its teams are far more concerned with booking concerts than negotiating a solution to end the owners' lockout," Saskin said.
Through Tuesday, the work stoppage has lasted 34 days and a full week of the season has been missed. The NHL and the NHL players' association haven't met or spoken since a negotiating session Sept. 9 in Toronto -- one week before the lockout was imposed -- and no talks are scheduled.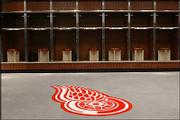 With no end to the labor impasse in sight, some players who have not taken their talents to Europe are skating a few times a week while coaches and management evaluate prospects in North America and overseas.
A handful of Red Wings have been getting together at a rink in suburban Detroit for casual games and workouts. Sometimes, they're really casual.
Three-time Norris Trophy-winner Nicklas Lidstrom recently skated around half of the ice with a few teammates while his children and other kids took shots at the other net.
"I'm hoping for a season after Christmas," Lidstrom said. "I'm optimistic."
Lidstrom won't go broke any time soon, but he's losing a ton of money each day he's not playing. The defenseman was to make $10 million this season, so each day he's not playing, he's losing more than $55,000.
NHL owners insist they're losing much more.
They claim teams lost $273 million in 2002-03 and $224 million last season. The NHLPA doesn't believe those numbers.
The players say the NHL only will listen to deals that contain a salary cap, and the union is adamant it will never offer or accept that.
"We want to be able to negotiate with a fair market when we negotiate with a team," said Lidstrom, Detroit's union representative. "We don't want any artificial barrier.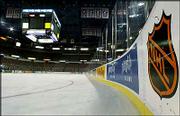 "The teams have a certain budget. That's your salary cap."
The stalemate has led to lost jobs or jobs about to be lost.
More than 100 employees from the NHL's central staff of about 225 have lost their positions.
The Buffalo Sabres will lay off about 25 employees by the end of November if there is no resolution.
Bars such as Andrews, known for attracting hockey fans in Detroit, also are taking a hit.
When the Red Wings play at home, owner Tom Woolsey employs about 20 people to take care of about 150 customers. He'll get by with just three workers today because of the lockout.
"It hurts," said Woolsey, who has run his bar near the Detroit River for 24 years. "For home games, I have extra valets, cooks, bartenders and shuttle-bus drivers, but with no hockey, I don't."
As fans John Bolin and Tony Ochab -- both from suburban Detroit -- enjoyed beers at the bar, they had no sympathy for the NHL's player or owners.
"It's millionaires fighting millionaires," Bolin said.
Though Ochab is a union man in a blue-collar town, he said the players have to get realistic about the state of their sport.
"Unlike football, baseball and basketball, hockey just doesn't bring in a lot of TV money," Ochab said. "So, the prices for these salaries just get passed down to the fans, and a lot of us are sick of it."
Copyright 2018 The Associated Press. All rights reserved. This material may not be published, broadcast, rewritten or redistributed. We strive to uphold our values for every story published.