Oil futures prices advanced to a new high Monday as a strike began in Africa's largest exporter of crude, exacerbating global supply concerns at a time of strong demand and reduced output in the hurricane-ravaged Gulf of Mexico.
Worries about Russian oil supplies also persist as oil giant Yukos, already struggling to repay a multibillion-dollar back-tax bill, got hit Monday with $1.34 billion in fines.
Crude for November delivery rose 33 cents to $53.64, surpassing Friday's record settlement price of $53.31 on the New York Mercantile Exchange.
On London's International Petroleum Exchange, Brent crude futures for November delivery rose 95 cents to close at $50.66 per barrel.
While oil prices are about 80 percent higher than a year ago, they are more than $26 below the peak inflation-adjusted price reached in 1981.
Underlying market jitters is the fact that excess available output is scant, with global production capacity only about 1 percent above the daily supply of 82 million barrels. Demand rose faster than expected this year, particularly in China and India, catching many in the industry off guard.
In Nigeria, a nationwide strike to protest higher fuel prices began Monday, shutting down most of Lagos, Nigeria's commercial capital. Militants smashed car windows to keep people home and streets nearly void of traffic except soldiers and anti-riot police in armored vehicles.
A spokesman for London-based Royal Dutch/Shell Group, which produces nearly 1 million barrels per day in Nigeria, said the strike had not affected output. The strike is only supposed to last four days.
"It may wind up being something bigger, we just don't know yet," said Ed Silliere, vice president of risk management at Energy Merchant Corp. in New York.
The strike takes place amid threats by a popular rebel leader's pledge to take back the rich Niger Delta oil fields if peace talks with the government fail. Nigeria pumps about 2.5 million barrels per day and is the fifth-largest source of U.S. imports.
The market also is closely monitoring the slow recovery of production in the Gulf of Mexico, where 17 million barrels of oil production have been lost since Hurricane Ivan whipped through the region, according to the federal Minerals Management Service. About 475,000 barrels a day, or 28 percent of regional output, remains frozen because of damage.
Natural gas production in the region is 1.8 billion cubic feet a day, or 14 percent, below pre-hurricane levels, and a total of 74 billion cubic feet of output has been lost.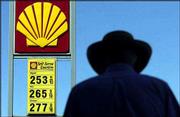 Copyright 2018 The Associated Press. All rights reserved. This material may not be published, broadcast, rewritten or redistributed. We strive to uphold our values for every story published.