Baghdad, Iraq — Shiite fighters unloaded cars full of machine guns, mortars and land mines Monday as a five-day, weapons-for-cash disarmament program kicked off in Baghdad's Sadr City district, a sign of progress in the center of Shiite resistance in Iraq.
A lasting peace in the sprawling slum would allow U.S. and Iraqi forces to focus on the mounting Sunni insurgency. Underscoring the threat, two American soldiers were killed in a rocket attack in southern Baghdad, and a third U.S. soldier died when a suicide driver exploded a car bomb in front of a U.S. convoy in the northern city of Mosul.
In Sadr City, followers of radical Shiite cleric Muqtada al-Sadr promised the government last weekend they would hand over medium and heavy weapons for cash in a deal considered an important step toward ending weeks of fighting with U.S. and Iraqi forces. Iraqi police and National Guardsmen will then assume security responsibility for the district, which is home to more than 2 million people.
In return, the government has pledged to start releasing al-Sadr followers who have not committed crimes, suspend raids and rebuild the war-ravaged slum.
Tentative truce
Members of al-Sadr's Mahdi Army started showing up at three designated police stations early Monday morning, carting bags full of guns and explosives -- even TNT paste. Many of the weapons appeared old and rusted, but government officials expressed satisfaction with the first day's haul.
"Sadr City residents were very responsive, and the process went without any incidents," Interior Ministry spokesman Col. Adnan Abdul-Rahman said. "We hope this will be completed in a comprehensive manner so that reconstruction can start in the city."
If disarmament is successful in Sadr City, officials hope to replicate the process in other insurgent enclaves so they can curb resistance by nationwide elections in January.
Elsewhere, two U.S. soldiers were killed and five wounded in a rocket attack Monday in southern Baghdad, the military said. No further details were disclosed. A series of heavy explosions rocked the city after nightfall.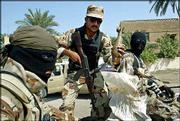 In Mosul, 225 miles northwest of Baghdad, insurgents opened fire from a mosque after the car bomb exploded in front of the U.S. convoy, the military said. One U.S. soldier was killed and nine were wounded, the U.S. command said. City hospitals reported at least two Iraqis killed and 18 wounded.
More hostages beheaded
Also Monday, an Islamic Web site showed the beheading of two hostages -- one a Turkish contractor and the other a Kurdish translator wearing a badge of the Titan security company.
A statement said the two were killed by the Ansar al-Sunnah Army, which claimed responsibility for slaughtering 12 Nepalese workers in August.
Copyright 2018 The Associated Press. All rights reserved. This material may not be published, broadcast, rewritten or redistributed. We strive to uphold our values for every story published.