New York — Curt Schilling signed with Boston for this very reason -- to silence the hated Yankees and pitch the Red Sox to that elusive World Series title.
"I'm not sure I can think of any scenario more enjoyable than making 55,000 people from New York shut up," he said Monday, a day before starting the opener at Yankee Stadium against Mike Mussina.
Before the first pitch even was thrown, the AL championship series had players buzzing. They thought back to the 45 intense meetings between the rivals during the past two years, to the on-field fights and the clubhouse boasts.
But in a series that seemed predestined since Aaron Boone's Game 7 homer off Tim Wakefield won last October's playoff in the 11th inning, there was an element of uncertainty for the Yankees this time. It centered on the status of closer Mariano Rivera, who returned to Panama on Sunday after two of his wife's relatives -- a cousin and his son -- were electrocuted in his swimming pool.
Though Rivera said he'd be on hand for tonight's game -- "I am going back to New York tomorrow, after the funeral, and rejoin the team" -- manager Joe Torre wasn't taking anything for granted.
"If he's here tomorrow, obviously, it would be wonderful," Torre said. "If not, we understand that."
Tom Gordon, his left eye still a little blurry after it was hit by a champagne cork in Saturday's clubhouse celebration at Minnesota, would take over as the closer if Rivera is absent.
Following Boston's first-round sweep of Anaheim and New York's 3-1 win over the Twins, Schilling and Mussina are rested heading into the opener. The Red Sox rotation has Pedro Martinez pitching Game 2 on Wednesday, followed by Bronson Arroyo on Friday at Fenway Park and Wakefield the following day in Game 4.
Jon Lieber and Kevin Brown follow Mussina for the Yankees, who still haven't decided between Orlando Hernandez or Javier Vazquez in the fourth game.
Major league baseball decided Monday to move Game 5, the only scheduled afternoon contest of the series, into prime time, bumping the NLCS to the earlier time slot.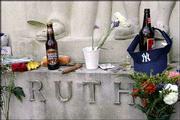 Copyright 2018 The Associated Press. All rights reserved. This material may not be published, broadcast, rewritten or redistributed. We strive to uphold our values for every story published.