John Randle cried.
Lew Perkins lit up a fat cigar.
And an electrified student body looking for any excuse to go crazy found it Saturday.
When the sold-out crowd finally filed out of Memorial Stadium, after most took time to charge the field and high-five Kansas University football players, one memory from the game remained, in large block print on the towering video board behind the south end zone.
It read what Jayhawk fans had been waiting more than a decade to read: Kansas 31, Kansas State 28.
K-State's 11-year winning streak over the Jayhawks is dead.
Both goal posts, the collapsible type that were purchased to avoid the student-body onslaught, drowned in Potter Lake anyway.
And a KU team that seemed cursed in late-game situations flourished Saturday, erasing a late deficit, adding to it and holding on for a streak-smashing win for the ages.
KU's perseverance won it Saturday. Jayhawk coach Mark Mangino knew it was coming sooner or later.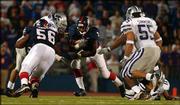 "When you're in for the long haul," Mangino said, "you have to prepare your kids to deal with adversity and success."
The Jayhawks faced both in a span of a quarter Saturday. KU (3-3 overall, 1-2 Big 12 Conference) led throughout, until Kansas State seemed to break KU's back with an 86-yard touchdown pass from Dylan Meier to Tony Madison with 13:20 to play. K-State led, 21-17, after trailing 17-6 at one point in the second half.
Adversity.
The Jayhawks didn't go away after the stunning big play, but they certainly lost much of the swagger they had earlier. KU punted the ball away on its next drive, then stumbled but survived, benefiting from a K-State roughing-the-passer penalty that kicked the sagging offense in the tail.
Facing third down and seven on K-State's 31-yard line, relief quarterback Jason Swanson tossed a pinpoint pass up the right side toward Mark Simmons. It looked bleak considering the tight coverage Simmons was dealing with, but the junior made an acrobatic one-handed grab in the end zone, and a Scott Webb point-after gave KU a three-point lead with 5:28 to play.
"It's not the best catch I've ever made," Simmons said, "but it probably was the biggest."
The Jayhawk defense once was again solid, holding All-America running back Darren Sproles to just 73 yards on 24 carries. After Simmons' catch, the defense once again wouldn't budge, forcing the Wildcats to punt after three plays for negative yardage.
On KU's second offensive play on the ensuing drive, Randle followed a solid block by fullback Brandon McAnderson, shook off five K-State defenders and rumbled in for a 43-yard touchdown that was as amazing as it was awesome.
Success.
Enough to make a grown man cry.
"I broke down crying just thinking about it," said Randle, who finished with 105 yards on 20 carries. "It felt so good to help my team like that."
The three-point lead after Simmons' score was shaky, but the two-possession advantage after Randle's was sturdy enough, even though K-State (2-3, 0-2) scored again with 2:06 left to make it a three-point game.
K-State's onside kick failed, and KU ran the clock out to ignite the celebration in which students rushed the field from the stands and from the hill outside the stadium.
The goal posts, as it turned out, didn't have a chance.
"I wanted to stay out there all night and celebrate with the fans," junior Nick Reid said with a grin. "It was awesome. I wish we could do that every game."
As the Jayhawk faithful rushed the field, Mangino congratulated K-State on the hard-fought game, then went to the locker room and gave game balls to every player on the roster.
"We won it as a team," Randle said.
From there, it was on to the press conference. Mangino was asked, after Perkins, KU's athletic director, lit up a victory cigar, how he'd celebrate the game.
Nothing special, Mangino said. Just some time with friends and family.
"But I might smoke a cigar on my back deck," he said with a smile. "I may do that."
Copyright 2018 The Lawrence Journal-World. All rights reserved. This material may not be published, broadcast, rewritten or redistributed. We strive to uphold our values for every story published.