One play.
That's all Lawrence High needed to knock off third-ranked Olathe South on Friday night, but the Falcons stopped the Lions' two-point conversion run in overtime and escaped Haskell Stadium with a 35-34 victory.
LHS moved two yards to the Falcons' one-yard line after a penalty on South, but backup running back Richard Demby was stuffed on a sweep to the right side.
"It was a poor call on my part," LHS coach Dirk Wedd said. "I should have gone north and south between the tackles, like we're known for."
Demby was poised to play the role of hero a few minutes earlier when the sophomore tossed a 55-yard halfback pass to Brandon Lassiter that put LHS up 26-21 with 1:41 left in regulation. Senior running back Jeff Colter broke three tackles on a two-point conversion run to make it 28-21.
"I thought we had it right there," said Lassiter, who caught six passes for 134 yards and two touchdowns.
But there still was plenty of time for O-South, which needed less than a minute to tie the game. Brady Croucher tossed a 25-yard TD pass to Bryce Morris with 56.8 seconds left, and Jimmy Sweeney sent the game into overtime with his extra point.
South took the ball first in overtime and needed just one play. Tony Bryant, who rushed for 91 yards on 18 carries, scored from 10 yards out, and Sweeney added the critical extra point -- his fifth in five attempts.
The Lions pulled within 35-34 when Ian Handshy scored from five yards out, but Lawrence came up short for the third time in five conversion attempts.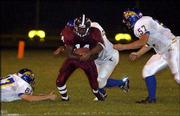 "That's the No. 3-ranked team in the state," said Wedd, whose team fell to 2-4 overall, 2-3 in the Sunflower League. "We went toe-to-toe with them and just couldn't finish."
Olathe South (5-1, 3-0) led 14-12 before Lassiter hauled in a 27-yard touchdown pass from Brian Heere with 26 seconds left in the first half. Lassiter (5-foot-10, 155 pounds) beat Morris (6-2, 195) on the play, and the two battled throughout the night on both sides of the ball.
Morris finished with six catches for 106 yards and three TDs.
"I feel like I let the team down," Lassiter said of his defense, "but we're going to get better."
Morris, who caught a 40-yard TD pass from Croucher in the first quarter, hauled in a 14-yarder with 8:24 remaining in the fourth to give South a 21-20 lead.
"He's an outstanding player," Wedd said. "He's big, tall, physical. He's got great speed. I think he's the best receiver in the conference."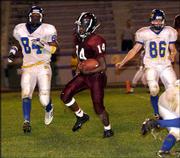 Croucher completed his first four passes and finished 8-of-13 for 145 yards. Heere was 5-of-7 for 79 yards for the Lions. Handshy led LHS with 79 yards rushing on 11 carries. Colter added 63 yards and a TD, and Nolan Kellerman added 39 yards and a score.
LHS had won two in a row after starting the season with three straight losses.
"Lawrence played a heck of a game," said South coach Mark Littrell, whose team has won five straight. "We knew they'd gotten better and better each week. We had to scrap for it."
The Lions open district play at 7 p.m. Friday at Washburn Rural in Topeka.
"We keep improving," Wedd said. "We did a lot of good things tonight, but we did some things good football teams don't do."
Copyright 2018 The Lawrence Journal-World. All rights reserved. This material may not be published, broadcast, rewritten or redistributed. We strive to uphold our values for every story published.