New York — Consumers spent frugally for a fourth straight month in September, giving major retailers modest gains during the critical back-to-school season and raising questions about upcoming holiday shopping.
The sluggish results announced Thursday came from across the industry. Among stores reporting tepid results were Wal-Mart, Gap, Federated Department Stores and J.C. Penney.
"There's definitely some anxiety out there on the part of consumers," said Ken Perkins, a research analyst at RetailMetrics LLC, a research firm in Cambridge, Mass.
Consumers, particularly low- and middle-income Americans, have been forced to cut spending on non-necessities as gasoline prices and grocery bills rise. Americans are also nervous about jobs -- last week, the Conference Board reported that job worries helped push consumer confidence down in September for the second consecutive month.
Retailers also attributed the lackluster sales to the hurricanes that ravaged Florida and the Southeast in late August and the first half of September, forcing many stores to close. Some merchants reported that unseasonably warm weather in the Midwest and other parts of the country curbed sales of fall merchandise.
The International Council of Shopping Centers-UBS sales preliminary sales tally of 71 retailers was up 2.4 percent, better than the 1.3 percent gain in August, but well off the average 6 percent increase of January through May. The tally is based on what the industry calls same-store sales, or sales at stores opened at least a year. They are considered the best indicator of a retailer's performance.
Wal-Mart reported a modest 2.4 percent gain in same-store sales, in line with the forecast of Wall Street analysts surveyed by Thomson First Call. Total sales increased 10.8 percent.
Target had a 5.6 percent gain in same-store sales, better than the 4.1 percent Wall Street estimate. Total sales were up 12.5 percent.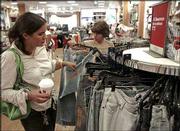 Topeka-based Payless ShoeSource reported a decline of 6.5 percent in same-store sales. For the first eight months of the year, sales are down 0.7 percent. The company's stock fell 8 cents to close at $9.79 per share.
Among department stores, Federated had a 0.1 percent gain in same-store sales, better than the 0.7 percent decline analysts estimated. Total sales were off 0.2 percent. The company said it lost about $30 million in sales to Hurricanes Frances and Jeanne.
Sears, Roebuck and Co. had a 3.2 percent decline in same-store sales in its domestic business. Wall Street had expected a 2.7 percent decrease. Total domestic sales fell 4.9 percent.
J.C. Penney Co. recorded a 2 percent increase in same-store sales at its department stores, in line with estimates. Total sales rose 2.3 percent.
Copyright 2018 The Associated Press. All rights reserved. This material may not be published, broadcast, rewritten or redistributed. We strive to uphold our values for every story published.